EARN & LEARN
An Apprenticeship combines the best of both worlds. As a student you'll gain skills, knowledge and behaviours and gain a recognised industry qualification, while at the same time being employed and earning a salary.
An Apprenticeship usually takes between one and four years to complete. 20% of your apprenticeship will be off-the-job training.
The requirements to start an apprenticeship are:
You must be 16 years or older
GCSE maths and English at grade A* (9) – D (3)
We can help you to find an employer to complete your apprenticeship with, or if you have an employer in mind let us know.
A student must either have their own employer in mind or work with us to find a suitable place of employment. Take a look at our current vacancies to see the types of employers we currently work with.
Once you have completed an Apprenticeship at College, you can either progress into employment full-time or go on to study a Degree Level / Higher Apprenticeship. We are part of the University of Derby, which means that we can help you and your employer with this progression.
AS PART OF AN APPRENTICESHIP YOU WILL…
Gain skills, training and knowledge through on the job training
Get real life industry experience and employability skills
Earn a real salary whilst gaining a qualification
Spend one day a week in College
APPRENTICESHIP standards
A new style of apprenticeships has been designed to help apprentices develop the skills they need to be successful in their industry and make a real contribution to employers.
Your job – On and off-the-job training to develop skills and knowledge
Values and behaviours – that are relevant to the role and industry
Maths and English – all apprentices will be required to develop Maths and English skills and align them to their job
Endpoint assessment – employers and assessors will 'sign-off' the apprentice as being ready for assessment towards the end of the apprenticeship.
Getting to and from college and work
To help you get to and from college and work there are a number of schemes and initiatives that can help, as well as the college providing free buses to campus for students.
The B-Line card can be obtained HERE and is applicable for those living in Derbyshire. It provides reduced cost bus travel throughout the county. Those living and working is Staffordshire can apply for post 16 travel assistance HERE.
There are also Wheels to Work schemes that help with access to mopeds or bicycles including safety equipment, associated training costs or assistance with planning your route using public transport, to find out more please follow the link to your local scheme:
Apprentice Benefits
As an apprentice at Buxton and Leek College there are some great benefits, including the opportunity to join the University of Derby Students Union.
The Union offers a free and impartial advice service where you can speak to one of our advice team in private about anything you like; nothing is ever too big or too small, so come along and get some help if you need it. We want you to make sure you get the most out of your time at college so we offer lots of opportunities for you to get involved. We will also support you to volunteer or fundraise so that you gain skills to help you achieve your ambition in life. Pop in and see us in the Social Space at Leek or the Union offices in Buxton.
You can contact us at:
01298 330603 / advice@derbyunion.co.uk
WEBSITE – www.derbyunion.co.uk
Find us on Facebook: https://www.facebook.com/BuxtonUnion/
You will also be eligible for NUS Extra. This is a retailer discount scheme especially for apprentices! More details can be found by clicking HERE
The TOTUM discount card scheme is also available for apprentices. Find out more HERE
APPRENTICE SUCCESS: JAKE WINS APPRENTICE OF THE YEAR!
Buxton & Leek College engineering apprentice Jake Gordon, from Leek has won the title of "Young Apprentice of the Year" at the Staffordshire Chambers 2019 Business Awards, held on Thursday 4 July.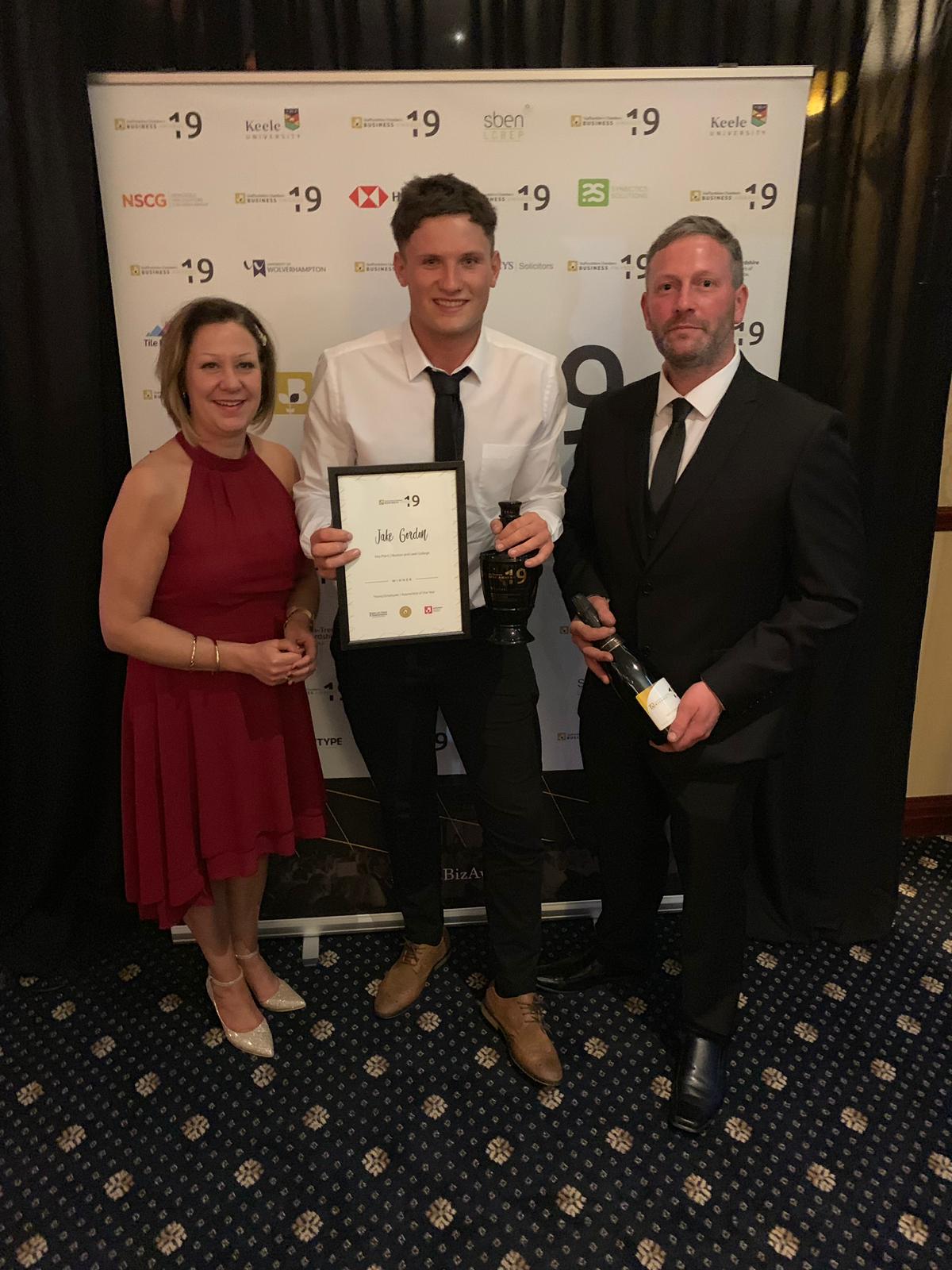 Left to right: Steve Grindey, Key Plant Engineering Manager, Jake Gordon and Sharon Hughes, Key Plant HR.
It was Jake's employer Key Plant that suggested the labourer complete a qualification whilst training to become a fitter. They contacted Buxton & Leek College to facilitate an apprenticeship, which offers an ideal combination of earning whilst learning.
Sharon Hughes, from Key Plant said of Jake's achievement:
"Jake has come a long way during his apprenticeship, his confidence has grown hugely, and he now leads one of our export rotators build programmes."
"He works alongside colleagues to build and test a range of rotators capable of carrying loads from 5t up to 100t after which the equipment is shipped to the USA and Scandinavia.  We very often have to work to deadlines to meet transport requirements and Jake is now able to work under pressure to meet the tight timescales."
"The fitting and build requires a broad range of skills and competency, Jake now has these and is very good at what he does. We are proud of what Jake has accomplished and very proud to have him as part of our team."
Speaking the following morning after the event, Jake said:
"I'm so happy that I've won! I went to a pre-awards event at the Mercedes-Benz showroom in Stoke, where excerpts of all the nominee's work were shown, and I thought then that I was in with a good chance of winning. It was brilliant to hear my name called out and listen to the reasons why I'd won.
get in go far
So are you ready to get your career started? Take a look at these videos and see what life is really like for an apprentice.