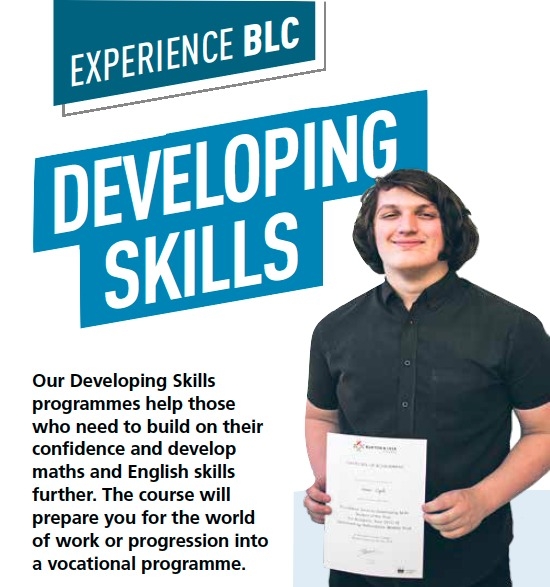 Developing Skills encompasses a suite of Foundation Study programmes.  The full-time programme is designed to improve life and employability skills for 16-18-year-olds from a variety of backgrounds. Work experience is meaningful and purposeful and relates to the students' aspirations in the area of employment or voluntary work that interests the individual.
When students start on the programme, base line assessments establish clear starting points. Monitoring Logs and Etrackr monitor and track progress made towards the overall achievement against initial outcome targets.
---
MATHS & ENGLISH
All students sit an initial assessment and a diagnostic test is carried out through BKSB to establish the most appropriate level of study. Students work towards Functional Skills or GCSE maths and English.  Maths and English is embedded and integrated into all lessons to deepen knowledge in a vocational and life skill context.
---
Teaching and Learning
Usually your college experience will be about learning new skills, but by joining a Developing skills group, you will be getting so much more.
The teaching team focus on the development of the whole person and supporting you with every element of the next year.
From helping you to find new ways of improving your English skills, to practical solutions to some of those more difficult things, such as lacking in self-confidence or finding it hard to "fit in".
As well as "in college lessons" we plan to take you out as a team to try new things and go to new places. Years of experience have shown us that this support will help you become more independent, self-confident and ready for work.
At the end of the year, you will have more qualifications, and be ready for either learning that is more advanced or your first job!
---
wORK EXPERIENCE
The work experience area of the programme aims to introduce and build on skills to enable students to progress into employment, training or volunteering following their course.  We offer an increasing participation of days and hours suiting students course levels from entry 1 through to our developing skills students on Level 1.
Students take part in group work activities and 1-1 meetings to increase their awareness of opportunities and career choices before selecting their placement.  Each student has a skills audit to understand which employment skills require the most concentration; these undertake a review following placement to measure the impact of the experience on student learning.
Students gain invaluable experience of work place environments and understanding attitudes and behaviours expected at work.  Students' feedback shows that they gain increased skills such as communicating with colleagues and customers, using their own initiative, organisation and planning, and travel.
We work with many local employers including Morrison's, Foxlowe Arts Centre, Whaley Bridge Memorial, Buxton Museum, WH Smith's, Staffordshire Wildlife Trust, Co-op, The Source, Mind, Buxton Riding School, and Peak Wildlife Park.
Many of our students progress onto further courses and curriculum areas within the college. Those that leave college move into other FE courses, supported internships, paid employment, voluntary work and independent living.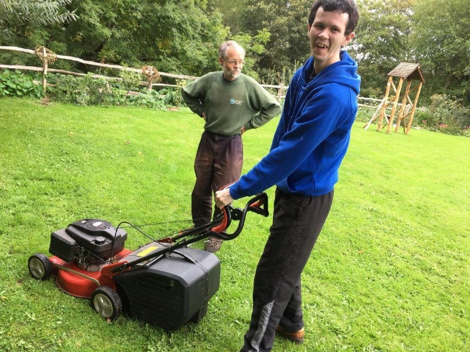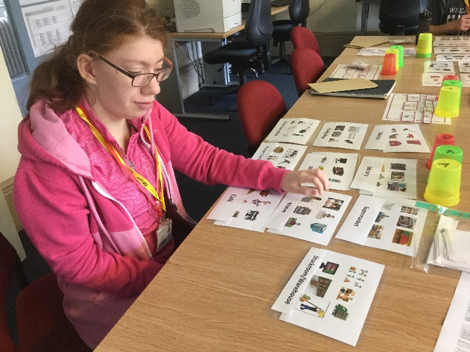 ---
EVOLVE
Learners participate in a one-hour session on a weekly basis with their progress coach. This is an opportunity for students to use their learner voice and have their say on experiences in College. Topics covered include British Values, Prevent, Online safety, Resilience and Employability. Learners develop essential communication and social skills through active discussions, debates and activities. Learners are encouraged to develop and build on employability skills by completing self-assessments and personal statements and are supported with work experience placements.
---
ENTERPRISE, EMPLOYMENT AND PASTORAL (EEP) OPPORTUNITIES 
The aims of EEP are to:
Improve and enhance the learner's experience of College life.
Develop new skills, preparing themselves better for the workplace.
Work collaboratively with others and undertake new challenges and experiences.
Increase awareness of their own strengths and areas for development.
This enables students to display a greater ability in resilience, determination, problem solving, communication, independence and applying knowledge in new contexts.
The range of activities include:
Ready for Work Club – introducing CV writing, application completion, job search, covering letter writing.
Volunteering/Work Experience Club – research and applying for placements and participation.
Health and Wellbeing – including, attending sessions at the local gym.
 Ready Steady Cook Club – healthy eating and lifestyles.
Road Safety Awareness – covering both theory and practical including travel training.
 Reading ahead challenge
CEOP internet safety.
During EEP sessions, we offer activities and experiences that develop new skills, increase knowledge and confidence and introduce new interests. Our aim is to provide the learners skills, knowledge and the confidence to move on to the next stages of their lives.This year we are offering:
Life Skills sessions led by the Union of Students to prepare learners for further college courses, work or independent living. Sessions include Basi
Money Management, Team Work Skills, Basic First Aid, giving and taking instructions, washing and ironing and basic food preparation and food storage. Held over six weeks.
RAG Club led by the Union of Students where learners can work on their personal development by researching, planning and hosting a fundraising event for a Charity of their choice. Held over six weeks.
Ready to Work Club aimed at learners that are going out on work placement or looking for employment. They will gain experience doing job searches/applications and the work place environment. Held over six weeks.
An introduction to zumba and yoga-designed for beginners who want to try out a different form of exercise and improve their fitness and wellbeing whilst having fun.
These will be followed by a selection of one-hour sessions every week to promote British Values through the Chaplaincy and gain an understanding of how to keep themselves safe by attending sessions on road safety, alcohol and drugs awareness, cyber-crime, CSE and Healthy body Healthy mind.
---
QUOTES 
"College has made me such a confident person. Buxton & Leek College has given us a second chance to improve our future and reach our goals." Paige

 

"I think college has made me more independent and made me a more confident person. The course has made such a difference for me to get my English & Maths." Leah, Leek

 

"College is another opportunity to get the grades I want."