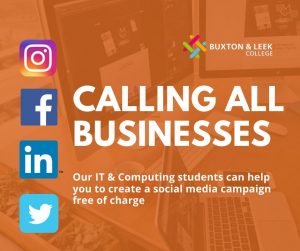 Are you looking to improve your social media content but don't know where to start?
Want to try out something new on your social media channels?
Don't have the time, resource or skills to create your social media content?
Our IT & Computing students can design a social media campaign to support your business goals.
If you'd like to find out more, and provide an opportunity for young people in the region to utilise their skills and gain valuable work experience, just fill out the form below.
Social Media Campaign – complete your details here
If your business is chosen, our students will get in touch with you to get a full brief for the job at your convenience – you can even come in and meet our students in person to discuss your business, goals and requirements for this social media campaign.
What you'll get:
The opportunity to brief our students and tell them exactly what you want from this project
Free branded social media content that you can use on the channels of your choice
Opportunity to promote your business for free
Positive PR and CSR coverage in the local community as we promote your business for working with Buxton & Leek College
For more information, contact Sarah Hall on s.hall@blc.ac.uk
Click here to find out more about our programmes and apprenticeships.