Ever wondered if you may have natural ability in subjects that you haven't ever tried? Now you can find out… Buxton & Leek college is offering the opportunity to have a go trying your hand at twelve different hobbies – for FREE!
Before deciding if you might want to join one of the various Learning for Leisure courses on offer the TASTERS are the perfect way to dip your toes in to see if you like it!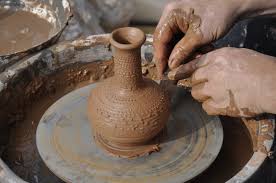 Pottery is one of the subjects on offer at Leek college.
Sue Baker, Community Learning Coordinator said about the free offer:
"There's lots of subjects to try, ranging from languages, floristry, art and pottery to cookery and guitar. The two-hour taster sessions are a great way of seeing if you enjoy a subject – and you may even find that you have a natural ability that you didn't know about.
"The TASTERS are open to everyone to try for free, taking place on the week beginning Monday 11 September. The full Learning for Leisure courses then start on the week beginning Monday 25 September."
To find out more or to secure a place at one or more of the TASTER sessions call Buxton & Leek College on: 0800 074 0099.  Courses are subject to change depending on numbers of people signing up. The courses are supported by Adult Community Learning, Staffordshire County Council.
TASTERS are also taking place at Biddulph Community Centre, please call Gill Roberts on 07811379888 for more information.
TASTERS at Leek Campus include:
Art Mixed Media
Life Drawing
Floristry Techniques
French
Italian
Spanish
Counselling
Pottery
Guitar
Photography
Sewing Workshop
Acrylic Laser Cut Jewellery Making
TASTERS at Biddulph Community Centre include:
Italian
Floristry Techniques
Art