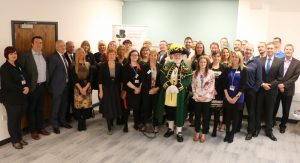 The official opening of the Staffordshire Moorlands Chamber of Commerce took place on Wednesday 9 October, located in the newly refurbished Leek campus at Buxton & Leek College.
Guests at the special breakfast time launch, toasted the new Chamber offices with cheese oatcakes and coffee.
Sarah Williams, CEO of Staffordshire Chambers of Commerce told guests at the opening:
"It has been a long-held ambition that we have a presence here. There's lots of work that we will be doing together with Buxton & Leek College and the University of Derby, helping to strengthen and develop businesses in the area."
Jack Price, Assistant Principal at Buxton & Leek College revealed that the event marked the end of "long journey" for themselves and the Chamber.
"We are hoping that this partnership represents a symbiotic relationship to promote the industry and economic development of the area." said Jack.
"It will also help us to promote the college apprenticeship division and supply our local businesses with workers."
The Staffordshire Moorlands Chamber of Commerce offers a large range of business help from training, to supporting start-ups and enabling existing businesses to flourish, find new markets and go into international trade.
Stephanie Traynor, Buxton & Leek College Apprenticeships Operations Manager said about the new venture:
"We were really keen to be placed next to the Chamber so that businesses could make full use of our free services. We offer training, business analysis, facilitating apprenticeships and funding, including links with the European Social Fund. We urge all businesses that are thinking of growth or taking on new business, to come forward and talk to us."
The new Moorlands Chamber of Commerce is based at Buxton & Leek College, Leek Campus. To arrange a meeting call 01782 202222 or visit the new office. Alternatively email: membership@staffordshirechambers.co.uk