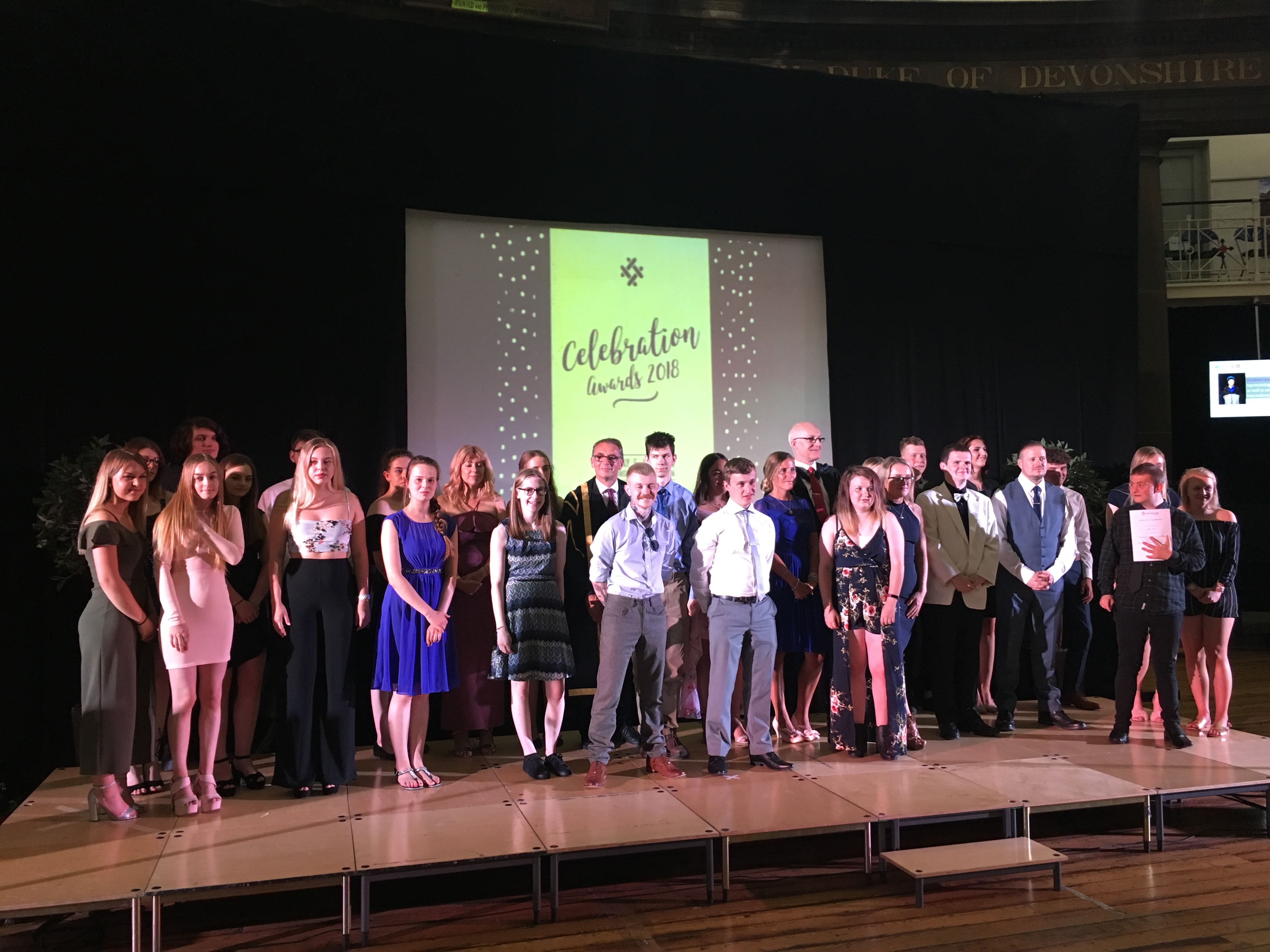 Over One hundred and sixty people were in attendance at Buxton & Leek College's Annual Awards Ceremony on Thursday 5 July, to recognise special student achievement in each curriculum area across the College. 31 winners and their guests were treated to a 2-course dinner held at Buxton's iconic Devonshire Dome. Throughout the evening students took to the stage to receive accolades for their special achievement, along with prizes from the evening's sponsors.
Principal of the College Len Tildsley, who presented the ceremony said: "This is a fantastic evening to join together students, tutors and parents so that we may celebrate the brilliant achievements of so many. I'm immensely proud of the College."
Malcolm Todd, Pro Vice-Chancellor at University of Derby, of which Buxton & Leek College is a part said:
"It is an absolute pleasure to be a part of tonight. We have heard through these testimonies the transformative nature of education and the privilege of learning. Buxton & Leek College is an integral part of the University of Derby and is very much part of our social mobility agenda and commitment to widening participation. To hear the stories of fantastic success tonight makes me very humbled about the work that is taking place in our FE College.
"It is 20 years since High Peak College in Buxton became part of the University of Derby and 6 years at the end of the month since Leek College joined us to form Buxton & Leek College, so an important year in many ways."
Olivia Dean, Chair of the Further Education Governance Committee called the evening "exhilarating" and said "I'm delighted to see and hear so many students achieving their potential and attaining great success."
Members of the College's Governing Council and employers the College works with were also in attendance together with Award sponsors.
The Outstanding Achievement award was won by Julia Knowles and an Unsung Hero Award was collected by Kimberley Graf. The FE Tutor of the Year Award went to Ken Airey.
This year's sponsors included Wella who gave out a number of their products to the winner of the Hairdressing Award. M-Viron sponsored the Maths & English accolades.  A £200 tool kit from Howdens was also up for grabs and a 6-month gym memberships from Brough Park Leisure Centre among many other high-value prizes.
The award-winners are:
*Hairdressing Award sponsored by Wella Products – Paulina Stobierska
*Barbering Award sponsored by Capital Hair Products – Nicholas Fitzgerald
*Beauty Award sponsored by Capital Hair Products – Alison Cartlidge
*Engineering Award sponsored by Flowflex – Fredrick Smith
*Carpentry & Joinery Award sponsored by Toolseller – Johnathan Clowes
*Media Award sponsored by Mojofuel – Jade Tideswell
*Computing ICT Award – Axel Wozny
*Art & Design Award  – James Gibson
*Motor Vehicle Award sponsored by Halfords – Anthony Prodromis
*Hospitality Award sponsored by Russums  – Sophie Skidmore
*Catering Award sponsored by Russums – Lilly-Anne Owen
*Outdoor Sport sponsored by Tittesworth Outdoor Water Sports – Jack Ramsden
*Indoor Sport Award sponsored by Brough Park Leisure Centre – Leah Chandler
*Public Services Award – Alfie Tomkinson
*Travel & Tourism Award – Millie Craven
*Health & Social Care Award – Phoebe Middleton
*Performing Arts Award – Tikara Harrison
*Access to HE Award – Nicola Vize
*Business Award sponsored by Debra – Agnieska Kowalska
*Childcare Award sponsored by Reach for the Stars Nursery – Kate Collinson
*Maths Award sponsored by M-Viron  – Elle-Mae Ball and Haydon Torr
*English Award sponsored by M-Viron – Emma Stoddard and Destiny Tatton
*Living & Work Award sponsored by Staffordshire Wildlife Trust–  Jack Evans
*Developing Skills Award sponsored by Staffordshire Wildlife Trust – Issac Ryde
*Adult skills Award  – Gary Rucroft
*Apprentice L3 Award sponsored by Howdens – Jack Gill
*Outstanding Achievement Award  –Julia Knowles
*Unsung Hero Award  – Kimberley Graf