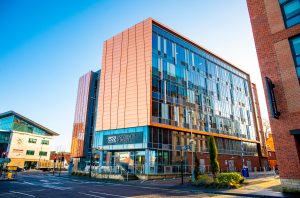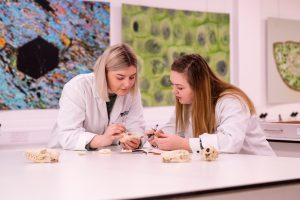 Buxton & Leek College is proud to be part of the University of Derby.
At the University of Derby, we're ready to help you get your career off to the best possible start, whether you have clear goals in mind or want to pursue your passion and find a focus for your talents.
You'll apply your studies in our state-of-the-art teaching facilities, using industry-standard equipment. And you'll develop your skills with project work, volunteering and work experience opportunities with us.
We are proud of our inclusive community where everyone is supported to be their best, regardless of their background. This commitment has won us several awards for social mobility, including University of the Year at the UK Social Mobility Awards 2020.
Facilities
Our main campus is in Derby, a hi-tech city with lots going on. The campus is spread across several sites, from Kedleston Road which also houses our Sports Centre and main library, to One Friar Gate Square, our specialist building for law and criminology courses. Markeaton Street is your base for arts, engineering and technology and boasts a dedicated STEM Centre as well as a separate building for fashion and textiles courses. A short step from here is the beautifully restored Britannia Mill, with studios for fine art, illustration or interior design.
All our sites provide study spaces and food outlets for your downtime between lectures. We've invested £200 million in our facilities over the past ten years which means you'll be learning in hi-tech surroundings, including a mock hospital ward, multi-scene Forensic Training Facility and Bloomberg Financial Markets Lab, to name a few.
There's free transport between sites in Derby, accommodation and the city centre, so it's easy to get around.
At Chesterfield, you'll find the old and new combining to create state-of-the art provision for nursing and health care courses. We've transformed the former Chesterfield Girls' Grammar School into a modern, bright base for your studies. Among its facilities is a cutting-edge Immersive Interactive Simulation Suite, replicating real-life scenarios in a safe learning environment.
Visit us virtually, click here for our virtual tour experience.
Open Days
We'd love to welcome you to an Open Day. It's the best way to see the University for yourself and ask all those questions you have about the course, the city, and the campuses. You can take a campus tour with current students, find out more about the subject you want to study, meet students and staff who can tell you what it's like to study here, and view our accommodation. There's advice on applying, finance and studying abroad, as well as access courses, online study and other options. Open Days take place throughout the year – for full details see our website. 
Student life in Derby
Our Union of Students organises a host of activities to help you get the most out of your time with us. Freshers' Fortnight gives you not one but two weeks of fun as you settle into University life.
Club nights and parties will soon have you making friends, while outdoor cinemas and open mic nights provide something a little more laid-back. Sport is on offer at competitive or social level, and societies cover a range of academic subjects, hobbies and other interests. The Union is also there to represent and support you throughout your time at the University.
Derby has a vibrant and compact city centre with plenty of places to eat and drink. There are cinemas, an arts centre, and a good choice of entertainments, from nightclubs to escape rooms, trampolining centre, bowling and indoor golf. If you love to shop, the indoor shopping centre has a good selection of high street shops, while the historic Cathedral Quarter has some more individual boutiques and specialist shops.
Accommodation 
Derby has eight halls of residence, all close together and ideally located for getting to lectures and into town. The award-winning halls are all self-catered, and there's a range of room types to suit different budgets.
All rooms have free Wi-Fi, and there's a free bus service to take you to lectures and into the city centre. Derby guarantees a room in halls for all first year and international students who make the University their first choice and apply by the deadline. Full details on their website.
Student support 
Derby's Student Wellbeing team offers a wide range of support for all students, whether they have specific concerns or just need a friendly chat.
Experienced teams can help with health and wellbeing concerns, money questions, exam stress and counselling. There's support for students with disabilities, specific learning differences and those with caring responsibilities, among others.  The Multi-Faith Centre has prayer spaces and a team of chaplains and faith advisers to talk to; and the Union of Students' advice team can help with finance, housing, wellbeing and other issues. You'll be assigned a Personal Academic Tutor who is there to guide you through your studies and support you to achieve your best.
Union of Students 
From the moment you start university, your Union of Students is with you all the way. They organise Freshers' – a packed programme of events to help you settle in, featuring club nights, parties, outdoor cinema, open mic nights and much more.
There's a range of clubs and societies with something for everyone, from sports to hobbies and subject-themed societies.  The Union is also there to represent you, with advice and support on finance, housing, wellbeing, study-related issues and much more.
Clubs and societies 
The Union of Students provides a huge choice of sports clubs, with most offering competitive and social options. There's everything from football, rugby and cricket to dodgeball, cheerleading and dance. Outside sport, societies are a big part of life at Derby; meet people with similar interests to you, or start a new hobby. There's lots on offer, from Bake Off to Biosciences, Medieval Re-enactment and Musical Theatre.