The BLC experience is about being encouraged and challenged to try new things, broaden your horizons and become more confident. Our Students' Union and Enrichment teams provide the opportunities – it's up to you to do the rest!


VOLUNTEERING – We encourage and provide you with lots of opportunities to volunteer in the community. Not only will it boost your CV it will develop skills vital for employment.
SOCIAL EVENTS – Get involved and meet new friends with our organised trips to Alton Towers, Awesome Walls, Paintballing and Manchester's Christmas Markets to name just a few.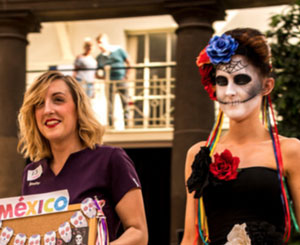 COMPETITIONS – We'll help you to enter regional and national competitions, putting your skills to the test against other students across the country and even around the world.
SPORTS CLUBS – Your Students' Union and Enrichment Team are committed to providing sporting opportunities for all students. These range from team sports like football and netball to more unusual sports like Boccia and paddle boarding.
FUNDRAISING – Get involved in our many fundraising activities for local and national charities. It's great fun as well as great for promoting teamwork and developing event and project management skills. In 2017 our students raised £28,933 for various charities!
SOCIAL SPACES – Relax with friends at The Boiler House in Buxton and Social Space in Leek.
EXTRA QUALIFICATIONS – Stand out from the crowd when it comes to applying for jobs by taking up additional qualifications that may be open to you on your course. For example, our Travel & Tourism students can also study for Cabin Crew and Resort Representative qualifications and our Sport and Public Services students complete their First Aid Certificate and Duke of Edinburgh's Award.