The BLC experience is about being encouraged and challenged to try new things, broaden your horizons, and become more confident. Our Union of Students and Enrichment teams provide the opportunities – it's up to you to do the rest!

VOLUNTEERING – We encourage and provide you with lots of opportunities to volunteer in the community. Not only will it boost your CV, it will develop skills vital for employment. Read here about our Hospitality & Catering students putting on a special treat for Derbyshire Carers Organisation.
SOCIAL EVENTS – Get involved and meet new friends with our organised trips to Alton Towers, Awesome Walls, Paintballing, and Manchester's Christmas Markets to name just a few. We also hold the annual BLC Fest for all of our students to celebrate the end of the academic year. Staff and students got in the BLC Festival spirit wearing colourful clothes and glitter whilst soaking up the student led entertainment throughout the day, and various College stands decorating the Dome floor. The hotly anticipated student and staff awards were also announced to an excited crowd during the afternoon.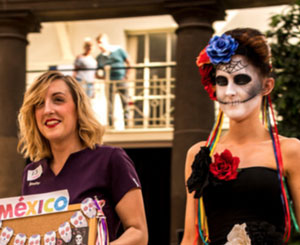 COMPETITIONS – We'll help you to enter regional and national competitions, putting your skills to the test against other students across the country and even around the world. Read here about our students competing in the 2019 Wella Xposure Competition and Engineering Apprentice Jake winning the Staffordshire Chamber of Commerce Apprentice of the Year Award 2019.
SPORTS CLUBS – Your Union of Students and Enrichment Team are committed to providing sporting opportunities for all students. These range from team sports like football and netball to more unusual sports like Boccia and Paddle-Boarding. Our Enrichment Programme offers other activities including Yoga, Zumba, Female Fitness, and Dance.
SOCIAL SPACES – Relax with friends at The Boiler House in Buxton and Social Space in Leek.
EXTRA QUALIFICATIONS & SKILLS – Stand out from the crowd when it comes to applying for jobs by taking up additional qualifications that may be open to you on your course. For example, our students can undertake First Aid and Food Safety qualifications, and also expand their skills in Car Maintenance, Drawing, Photography and Cooking.
SUPPORT – At BLC we are here to support you in your studies and help you on the path to the future you want. With our dedicated support staff and services, we will be there to help you at every step of your BLC experience. Click here to find out more.
You can find out about all the latest activities that our students are involved with on our News Page or by following our Facebook, Twitter, Instagram and LinkedIn accounts.
YOU SAID WE DID –