APPRENTICE JAMES SHORTLISTED FOR MADE IN MIDLANDS AWARD
Buxton & Leek College Apprentice James Birks has been shortlisted as Apprentice of the Year in the Insider Made in the Midlands awards.
19-year-old James, from Stoke, is an apprentice with Buxton manufacturing and engineering firm Flowflex and is studying Level 3 Engineering at Buxton & Leek College.
The Apprentice of the Year award recognises the hard work, dedication, and determination of individual apprentices who are currently working in the manufacturing sector.
Buxton & Leek College's Engineering Assessor, Nick Grayson, said: "We're really proud of James for being shortlisted for this award. He's worked extremely hard in his apprenticeship at Flowflex and has undertaken a unique role which combines design, manufacture, prototyping and testing."
KEY PLANT
Buxton & Leek College apprentice Jake Gordon, recently won the title of "Young Apprentice of the Year" at the Staffordshire Chambers 2019 Business Awards, held on Thursday 4 July.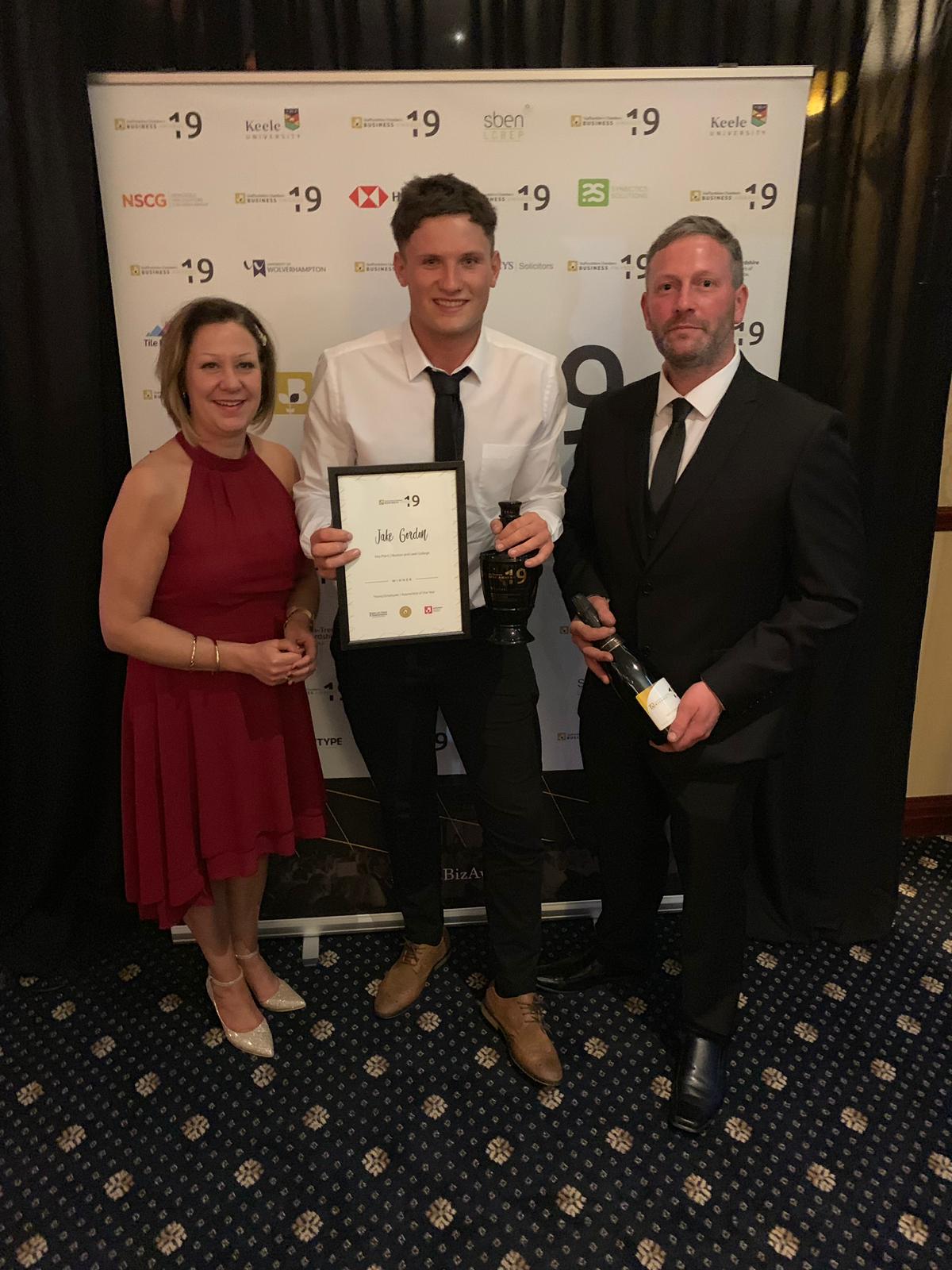 It was Jake's employer Key Plant that suggested the labourer undertake an apprenticeship in order to train to become a fitter; they then contacted Buxton & Leek College to facilitate the apprenticeship.
 Sharon Hughes, from Key Plant who attended the awards with Jake, said:
"The event was organised perfectly, it was a great night topped off with a fantastic win for Jake, Key Plant and Buxton & Leek College. 
…We were all thrilled that Jake got to be one of four finalists; this in itself is such a great achievement, but then for Jake to be the winner of the award was just wonderful!
…It had been a tough decision for the judges, so it was a proud moment to see the other finalists congratulating Jake after they had worked so hard for the award themselves.  We are very proud of what Jake has achieved, he deserves the award 100%."
GREENWAYS PRIMARY SCHOOL
Charlotte Brackstone, Deputy Headteacher at Greenways Primary School in Stockton Brook took on Childcare Apprentice Danielle Sims. Charlotte said:
"We have been happy to accommodate Danielle while she is training because she is mature enough to realise that things don't always run smoothly. She's so embedded into the life of the school here at Greenways that we have juggled the budget to offer her part-time work as a classroom assistant to support her financially while she furthers her studies. We are keen to help her develop her teaching skills and really don't want to lose her."
Samuel Fox Inn
Apprentice Employer James Duckett from the Samuel Fox Inn in Hope Valley said:
"I think Apprenticeships are a great idea as, when students are studying in College, there can be a reality gap between what they learn and what actually happens in a working kitchen. I started out with a degree in hotel management but, if my son wanted to follow in my footsteps and become a chef, I would definitely recommend that he go down the Apprenticeship route."
Craft Furniture
Nick Box at Craft Furniture in Leek, hired two Apprentices, Ben and Taylor, thanks to Buxton & Leek College. He said:
"I was impressed with Ben from the outset. He has a really brilliant work ethic, and he was trained to a high standard through the College. The money I have spent employing him while he finished his training has been well worth it. I have been so impressed with him that I didn't hesitate to turn to Buxton & Leek College again when the time came to expand. I now have a second Apprentice joiner, Taylor Golding, and would recommend the Apprenticeship scheme to any employer."
Rocklee Care Home
Rocklee is a care home that offers a personal care approach to many specialist conditions related to mental health. Home Care Manager Jacqui Martin believes that training and development is the key to the success of her business. When Buxton & Leek College approached Jacqui in January 2014, with training opportunities focusing on catering Jacqui seized this opportunity as a chance to enrich her team's existing knowledge and skills. After receiving information, advice and guidance from Janet Greener and Tracey Wainwright (industry experienced assessors), Jacqui took the decision to enrol five members of staff on to a Level 2 Diploma in Professional Cookery. The staff were able to work through the course without having to attend college, which provided the flexibility they required. To date five staff members have already completed the qualification and Jacqui is already planning how to build on what has been achieved by attending a one-day course on Healthier Foods and Special Diets run by Buxton & Leek College.
Bibby Distribution
Paul Byrne, whose Bibby Distribution company employs a workforce of 3,500, said:
"950 of our drivers are aged over 50, and we are facing a real shortage of drivers in the future with a shortfall of 50,000 forecast by 2017. We need to recruit the right people, and we are not proud of the fact that only 18% of our workforce has a Level 4 qualification or higher. The difference between the best driver and the average driver is around £3,000 a year in fuel efficiency so progressing skills in our industry is our biggest priority."