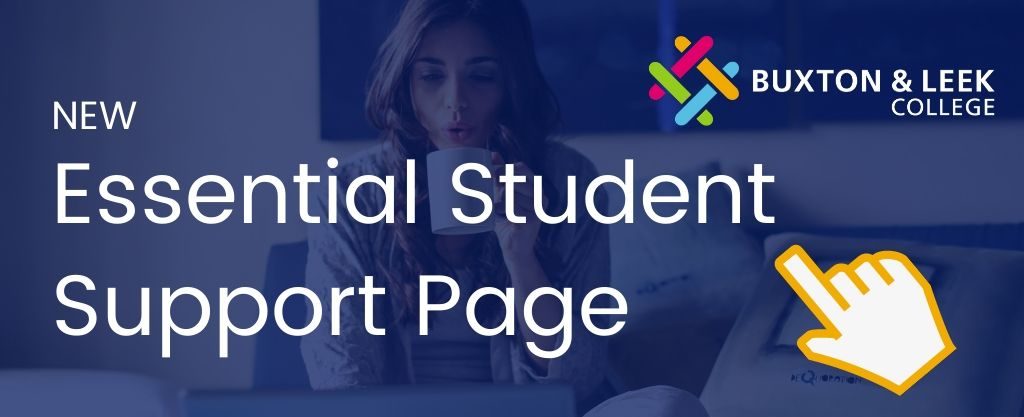 Due to the current Covid-19 (Coronavirus) situation, on-campus teaching is temporarily suspended; however Buxton & Leek College still remains committed to provide a positive and supportive experience for all our students.
Please use the information and links included on this page, which will be regularly updated with the latest news and advice, to guide and support you as we adapt to this new method of home-study and online-learning.
are you feeling anxious about coronavirus?
We understand that this can be a difficult time for many people, please visit the links below for tips and advice on maintaining positive mental health during lockdown.
Click here to view the latest advice from Young Minds
How to look after your mental health during the Coronavirus outbreak
A student survival guide to self-isolation
hELPFUL DIGITAL GUIDES
Click here to view our guidance on 'Staying Safe Online' NEW
Click here to view our guidance on 'Closure Support & Safeguarding'
Click here to view our guidance on 'How to access Blackboard at Home'
Click here to view a list of 'Helplines, Apps & Websites to Support Students and Parents'
Click here to view our 'Netiquette Guide for Online Classrooms'
Click here to view our parental guidance on 'Social distancing for Older Children and Teenagers'
Worried about exam results?
union of students
The Buxton office is currently closed, but the team are still available to offer support and advice to students. Please contact Lizzie Hill on lizzie.hill@derbyunion.co.uk or call 01298 330312.  
The Union Advice Service is available Mon-Fri, 10am-4pm for appointments by phone or skype. Please book online here or email advice@derbyunion.co.uk.
financial support
The application form for Financial Support in 2020/21, is now available to download from our webpages. Both new and returning students will need to complete a 'Financial Support Fund' application form (a Universal application for all the Bursaries we administer at Buxton and Leek College), in order to receive financial support towards additional course costs.
Please click here to find our further information or alternatively email:
E: studentmoneyadviceblc@derby.ac.uk where our Student Money and Rights Adviser – Eleanor Ives, will be happy to answer any queries you may have
CAREERS AND EMPLOYMENT SERVICE
Please be assured that the Careers & Employment Service- including the Work Experience team- is here for you just as ever. There are a range of resources online that you can access from home which will help you plan for your future career and boost your employability. We are also offering personalised advice through digital 1-2-1 appointment via skype or phonecalls.
library services
The Library have put together a LibGuide to support students who are remote learning. It's for all students – HE and FE. FE students can use the Home, Help and Support and the FE Students tab for updates, how to get help, and advice about using eResources.
There's also a webchat icon in the bottom right corner of every page that students can click on and ask a question. Students can also book appointments online with the Librarian for specific queries.
chaplaincy
Ingrid Keith is offering Chaplaincy support with Spiritual Well-Being and has found a helpful link for students to gain support too- https://www.rcpsych.ac.uk/mental-health/treatments-and-wellbeing/spirituality-and-mental-health
If you would like a confidential chat with a Chaplain, please email I.Keith@derby.ac.uk and a Teams call can be set up to talk about religion, spirituality or anything you are worried about during these uncertain times.