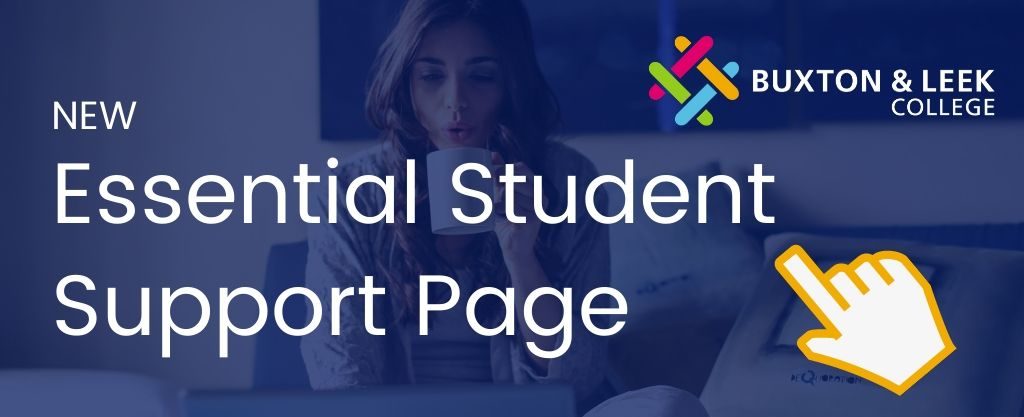 The essential support page is here to provide you with information, advice and support that you can receive whilst at college to help ensure that you have a positive learner journey experience. The essential support page also includes useful external agency information, including out of hours help and advice. 
Please use the information and links included on this page, which will be regularly updated with the latest news and advice, to guide and support you as we adapt to this new method of home-study and online-learning.
are you feeling anxious about coronavirus?
We understand that this can be a difficult time for many people, please visit the links below for tips and advice on maintaining positive mental health during lockdown.
Click here to view the latest advice from Young Minds
How to look after your mental health during the Coronavirus outbreak
A student survival guide to self-isolation
hELPFUL DIGITAL GUIDES
Click here to view our Keeping Children Safe Online guidance
Click here to view our guidance on 'Staying Safe Online' NEW
Click here to view our guidance on 'Closure Support & Safeguarding'
Click here to view our guidance on 'How to access Blackboard at Home'
Click here to view a list of 'Helplines, Apps & Websites to Support Students and Parents'
Click here to view our 'Netiquette Guide for Online Classrooms'
Click here to view our parental guidance on 'Social distancing for Older Children and Teenagers'
Worried about exam results?
union of students
The Buxton office is currently closed, but the team are still available to offer support and advice to students. Please contact Emma Taylor on emma.taylor@derbyunion.co.uk or call 01298 330603 .
The Union Advice Service is available Mon-Fri, 10am-4pm for appointments by phone or skype. Please book online here or email advice@derbyunion.co.uk. You can also access information about course reps by accessing the following link https://www.derbyunion.co.uk/blc/
financial support
The application form for Financial Support in 2020/21, is now available to download from our webpages. Both new and returning students will need to complete a 'Financial Support Fund' application form (a Universal application for all the Bursaries we administer at Buxton and Leek College), in order to receive financial support towards additional course costs.
In order to apply, you will need to download the application form found on the link above and return it to E: financialsupportfund@blc.ac.uk – unfortunately, we will not be able to accept paper applications whilst the campus is closed.
FAQs regarding the Financial Support Fund and how it is affected by Covid 19
The Financial Support Fund would like to thankyou all for your patience during this time.
We would also like to update you all regarding the Fund and what that means for you whilst you study from home.
Please be aware that any updates will be sent to your Unimail account.
Is the Financial Support Fund still open?
The Financial Support Fund is still open and welcoming applications until the close of the academic year
You can find out more information and apply by downloading our application form for 2020/ 21 from our webpages.
As the campus is now closed to visitors and staff, our Financial Support Fund Team are working remotely and are still available to answer queries via email, but will not be able to access any paper records.
All information received will be processed in line with GDPR.
Awaiting a decision?
The Financial Support Fund Team are currently working as fast as we can to process applications- we have seen a substantial increase in applications this year which evidences the financial impact Covid 19 has had
The processing time is currently 6-8 weeks – please be patient
As we are a small team we ask for you to ensure you limit the email traffic we are currently receiving at E: financialsupportfund@blc.ac.uk and only email us for an update if you did not receive a decision within 6 working weeks (this does not include the two week Christmas period)
We also ask for you to ensure you have
Completed your application in full
Signed the front page of your form
Provided your (the students bank details in Section F), if this is not possible we ask you explain why in your supporting statement and sign that you are happy to have any direct Bursary monies paid to the account provided
Sent us all the requested evidence found within the checklist within the application form
In the event applications are received with missing evidence, your application will be subject to the 6 week timeframe each time we ask for additional evidence – it is therefore important you include all the requested evidence straightaway.
Circumstances changed since first applying?
You will need to put in a second application to the fund and evidence the change in income/ circumstances.
Will you be paid your bursary allocations whilst you study from home?
FCM/ Meal Card payments will continue- the rate and format will be communicated with you as soon as possible – the team are currently working hard to ensure all payments are in place
Travel payments – unless you are studying onsite travel payments will, for the time being, stop – in it's place the team will be identifying other costs we can support you with whilst you study from home, this will be communicated with you within the next fortnight
Equipment/ laptop costs – If you have sent us a receipt for either your equipment or laptop costs we will pick this up as soon as possible  – if it has been over four weeks since you claimed one of the two options for laptops and haven't heard anything – please flag this with us
Childcare – if you still require childcare during this period, the Bursary will continue to make payments subject to 85% attendance, for the days you are timetabled to study
Other – these will continue as normal
CAREERS AND EMPLOYMENT SERVICE
Please be assured that the Careers & Employment Service- including the Work Experience team- is here for you just as ever. There are a range of resources online that you can access from home which will help you plan for your future career and boost your employability. We are also offering personalised advice through digital 1-2-1 appointment via skype or phonecalls.
library services
The Library's FE Subject Guides contain everything you need to be able to access and use our Library resources while studying remotely.
You can find the Subject Guides via this link – look for your subject in the list.
Each Guide has information on using books and eBooks, using our search engine, Discover to find articles and more, and provides links to useful websites. There is also help with using Harvard referencing.
If you have further questions, there's a web-chat icon in the bottom right corner of every Subject Guide page that students can click on and ask a question. You can also book places at Academic Librarian Clinics for specific queries (on the calendar, look for the ones called 'Buxton and Leek students').
You can now also access our library FE subject guides by following this link https://libguides.derby.ac.uk/blc
chaplaincy
Ingrid Keith is offering Chaplaincy support with Spiritual Well-Being and has found a helpful link for students to gain support too- https://www.rcpsych.ac.uk/mental-health/treatments-and-wellbeing/spirituality-and-mental-health
If you would like a confidential chat with a Chaplain, please email I.Keith@derby.ac.uk and a Teams call can be set up to talk about religion, spirituality or anything you are worried about during these uncertain times.