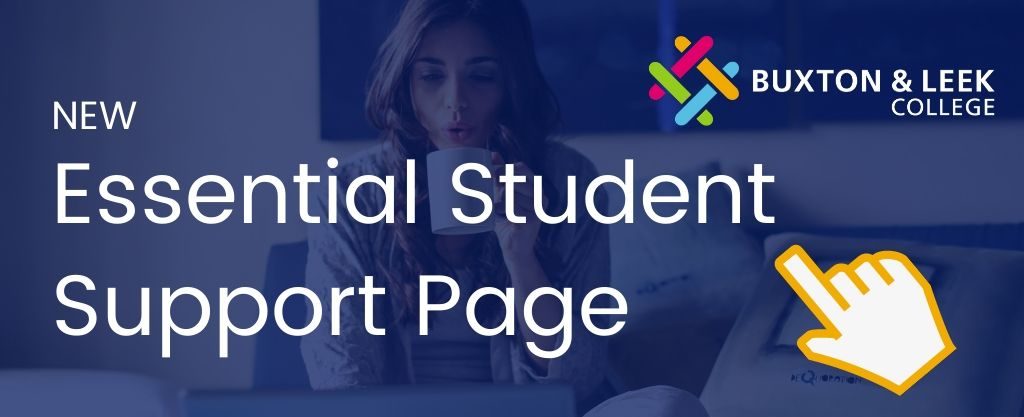 The essential support page is here to provide you with information, advice and support that you can receive whilst at college to help ensure that you have a positive learner journey experience. The essential support page also includes useful external agency information, including out of hours help and advice. 
Please use the information and links included on this page, which will be regularly updated with the latest news and advice, to guide and support you as we adapt to this new method of home-study and online-learning.
STUDENT INFORMATION RE COVID-19 FOR SEPTEMBER 2021
We are looking forward to welcoming you to BLC during induction week.  The College will continue into 2021/22 to ensure that we comply with the latest government guidance on COVID -19  to keep students and staff safe whilst at college.
Buxton & Leek College are still asking all students to bring face coverings into college and we recommend that you wear them in busy spaces, such as communal areas and in some workshops and classrooms.
Before you start your programme with us, you should undertake a Lateral Flow Covid Test.
You can book a test at one of our on-site test centres in Buxton, Leek or Derby, if you want to come in to college for a test or you can undertake a home test and report this to the College on 0800 074 0099 if the result is positive.
Our on-site test centre is available for Buxton & Leek students to attend for an advance test between 10am and 3pm on the 1st, 2nd and 3rd of September. For Derby students the on-site test centre at Kedleston Road is now open from 8.15am and 2pm.  It is essential that you book in advance before travelling to college for an on-site test.  The online booking system can be accessed through this link…  https://derby-testing.libcal.com/.
You will be invited to take a second test at our on-site test centre within your first week, this will be arranged by your tutor.  Following this, students should continue to undertake home testing up to twice per week until government guidance changes.  The College is able to provide supplies of home test kits from 13th September.
For further information and updated on COVID -19 please look at our website https://www.blc.ac.uk/covid-19-guidance/
Find our latest Updates below: