To speak to our tutors, assessors and support staff come and along to an open day where you can discuss your goals. If you are unsure how to realise your aspirations or which course is right for you and would prefer an advice, private information and guidance session please contact us to arrange.
Downloadable guides
Apprenticeship Parent Carer Guide
Apprenticeship Guide for Students
What is an apprenticeship?
An Apprenticeship combines the best of both worlds: as an apprentice student you'll gain skills, knowledge and behaviours to achieve a recognised industry qualification. You can still access all student benefits such as the TOTUM student discount card, the student well-being service, the college library and online resources. Alongside this you will be employed in a real job, be paid a salary or wage, receive paid holidays and other benefits your employer offers for example employer discount or healthcare schemes.
Why be an apprentice?
Earn whilst you learn! Apprentices not only gain the industry standard qualifications but will also have gained invaluable experience.Many apprentices stay with their apprenticeship employers on completion in permanent roles, gain promotion and, in time, train new apprentices.
The stages of an apprenticeship
Application – To study an apprenticeship apprentices need a college placement and apprenticeship employment.
Interviews – Apprentices will have a college interview to secure a college place and an employer interview, similar to a job interview, to secure apprenticeship employment.
Enrolment – All necessary paperwork will be completed, proof of identification and certificates of prior learning is provided to the college and, where necessary, the employer. The apprentice is issued with their college timetable, student ID and login details.
On-program – This is the longest part of the apprenticeship where the skills, knowledge and behaviours needed to satisfy the apprenticeship are gained.
Gateway – The college and employer will review the knowledge, skills and behaviours gained by the apprentice to ensure they have met the minimum requirements of the apprenticeship and are ready for the end point assessment (EPA).
End Point Assessment (EPA) – This is the final assessment of the apprenticeship overseen by an independent assessor. You must pass the EPA to achieve your apprenticeship.
Achievement and Progression – After passing the EPA Apprentices are issued with certificates and next steps are discussed, for example; a level 3 apprenticeship, employment or Higher Education.
How do I apply?
An Apprenticeship requires a college placement and employment as an apprentice, there are a number of ways to achieve this;
Apply to a specific Apprenticeship Vacancy 
Apply directly for your chosen course, we can then help to find a suitable employer.
If you already have an employer to support you through an apprenticeship please apply now to secure your place on the college course.
In all instances applicants will attend a college interview where they can discuss their aspirations and ask questions about the course. All applicants will complete a bksb Maths & English assessment as part of the application process, irrespective of prior achievement.
Applicants will receive an offer of a place on the apprenticeship course, if appropriate, and their details forwarded to suitable employers, with permission, for interview with them. It is important to note that it is up to the employer who they employ as their apprentice. Applicants have the option of commencing a classroom based course if suitable employment is not found.
What are the entry requirements?
The entry requirements vary for each apprenticeship standard, for all you will;
Be at least 16 years of age.
Have a good standard of Maths & English, ideally GCSE 4/C or above.
To study level 3 Advanced apprenticeships or above you will usually need to have completed qualifications in the subject area, have previous level 3 qualifications and/or prior industry experience. This will be discussed with you at you college interview.
Apprentices who have not achieved the required Maths & English qualifications may be able to study towards equivalent qualifications called Functional Skills. This is subject to the results of applicants bksb assessment.
How long will it take?
The length of the apprenticeship varies from 1 to 5 years depending on the apprenticeship and level chosen. For all apprenticeships 20% of working (paid) time is spent completing off-the-job training such as; attendance at college, shadowing an experienced colleague, attendance to conferences, trade shows or industry/product specific training sessions.
What does an apprentice earn?
The minimum wage for all apprentices 16-18 years old and apprentices 19 years old or over in their first year is £4.30 per hour. Apprentices 19 or over who have completed 12 months of their apprenticeship are entitled to the minimum hourly rate for their age.
Many employers do pay more than the minimum or will increase pay as skills develop or offer perks such as free lunch, contribute towards transport costs or performance bonuses.
What hours does an apprentice work?
The minimum number of hours is 30 per week which includes the 20% off-the-job training requirement. Actual working hours will depend on the industry, for example; working in hospitality is likely to involve evening and/or weekend working, in a school environment it is unlikely holidays would be approved during term time. Many industries have busier times of the year when time-off may not be permitted, but this will not apply to college attendance.
What is an apprenticeship standard?
A standard is a new type of apprenticeship that has been developed to be occupation focused not qualification led. They set out the skills, knowledge and behaviours an apprentice will need to have learned by the end of their apprenticeship. The learning takes place throughout the apprenticeship with input from both a training provider and the employer. At the end of the apprenticeship the apprentice will need to demonstrate their learning and prove they can carry out all aspects of their job through an end point assessment (EPA).
What is an end point assessment?
The purpose of the end point assessment (EPA) is to test that an apprentice is fully capable of doing their job before they receive their apprenticeship certificate. It also helps to demonstrate that what an apprentice has learned can be applied in the real world.
The synoptic EPA has become a core feature of new apprenticeship standards because it assesses the apprentice's performance across the whole standard rather than for individual tasks.
There are a range of assessment methods including:
practical assessment
interview
project
written and/or multiple choice tests
presentation or sales pitch
The apprentice must be assessed by a minimum of 2 different assessments methods and the methods used will be the ones most relevant to the job and so will vary from one apprenticeship to the next.
After the EPA, the apprentice is graded by pass, merit or distinction. Clear grading descriptors set out the requirements for each grade. The apprentice must pass all assessment methods to achieve an overall pass.
How do I get to college and work?
Buxton & Leek College provides free busses which are available to apprentices on their college day. We recommend that apprentices consider carefully how they will travel to and from work.
There are schemes available such as;
The B-Line card for those living in Derbyshire which provides reduced cost bus travel throughout the county, more information is available HERE.
For those living in Staffordshire you may be eligible for the post 16 travel assistance scheme, more information is available HERE.
Wheels to work schemes help with costs associated with getting a moped or bicycles including training and safety equipment. They also offer assistance with planning routes via public transport;
Can I study at university (Higher Education) level after completing an apprenticeship at college?
Yes! Buxton & Leek College are part of the University of Derby who offer an ever-increasing range of Degree Level / Higher Apprenticeships. You can earn a degree without the fee, as an apprentice you don't pay tuition fees and as a paid employee you will receive a salary or wage.
APPRENTICE SUCCESS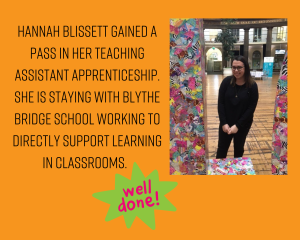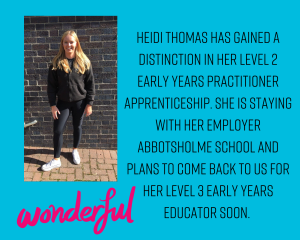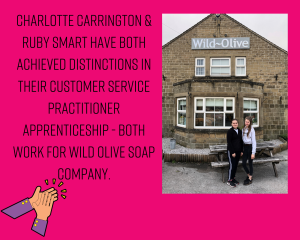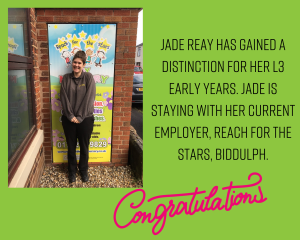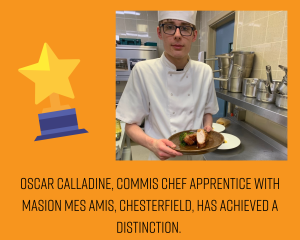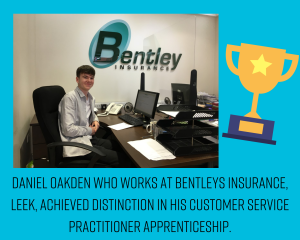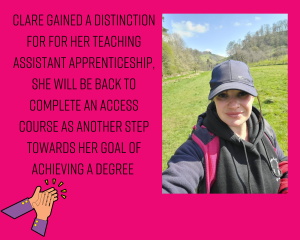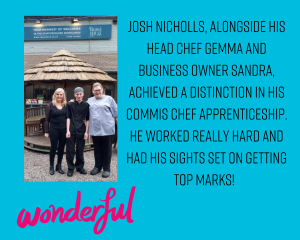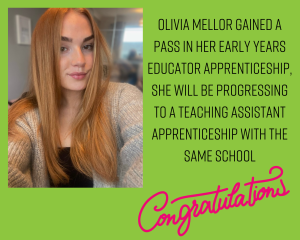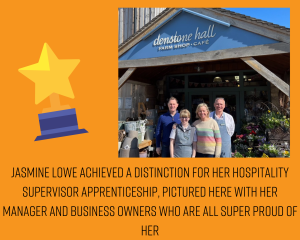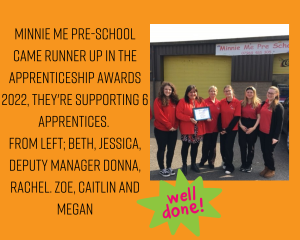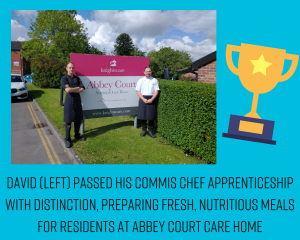 JAKE WINS APPRENTICE OF THE YEAR!
Buxton & Leek College engineering apprentice Jake Gordon, from Leek has won the title of "Young Apprentice of the Year" at the Staffordshire Chambers 2019 Business Awards.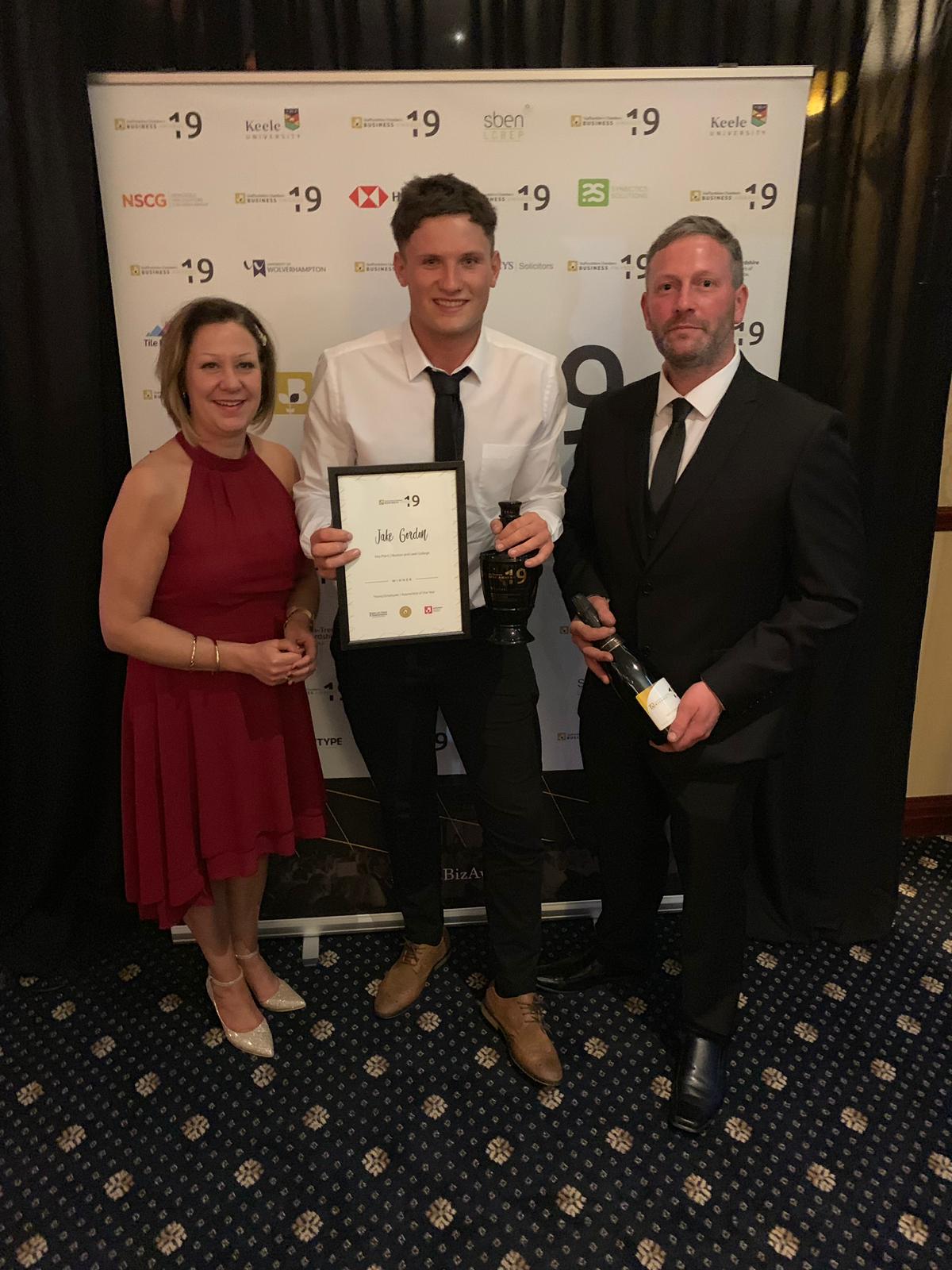 Left to right: Steve Grindey, Key Plant Engineering Manager, Jake Gordon and Sharon Hughes, Key Plant HR.
Sharon Hughes, from Key Plant said of Jake's achievement:
"Jake has come a long way during his apprenticeship, his confidence has grown hugely, and he now leads one of our export rotators build programmes."
Speaking the following morning after the event, Jake said:
"I'm so happy that I've won! I went to a pre-awards event at the Mercedes-Benz showroom in Stoke, where excerpts of all the nominee's work were shown, and I thought then that I was in with a good chance of winning. It was brilliant to hear my name called out and listen to the reasons why I'd won.
Life beyond an apprenticeship
After you have completed your apprenticeship a more advanced level apprenticeship may be available, see our course directory for more information.
The University of Derby, which Buxton & Leek College is part of, may also have opportunities to complete a Higher or Degree level apprenticeship in your chosen subject – gain a degree without the fee!
For more information please see the University of Derby Apprenticeships webpage. 
If you are thinking of starting your own business after completing your apprenticeship there are several schemes that support Start-ups;
Start-up with Staffordshire Chambers 
Staffordshire Moorlands Start-up loans 
There are also several initiatives through the University of Derby;
UoD Help to Grow Management Invitation