I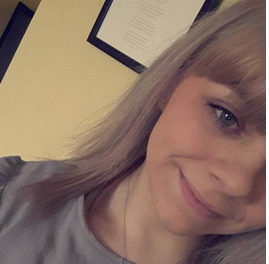 came to Buxton & Leek College at the age of 16 – I didn't know what I wanted to do with my life in terms of career so I started with a Travel & Tourism course at the Buxton Campus. I enjoyed this because I wanted to do something to do with customer service and this gave me the chance. During the course I made lots of new friends and coming from Poynton High School I didn't know many people. My course gave me confidence and a sense of independence.
My sister was studying a Level 2 Hair course and it appealed to me as I am quite creative. On completion of the Travel & Tourism course I applied for Level 2 Hairdressing. This was when I discovered my passion for the subject and I buckled down and loved every aspect of the course. The tutors and commercial team were simply amazing. They have such a high skill set and really go out of their way to help you progress. On completion of the Level 2, I immediately applied for Level 3 Hairdressing which is a technical qualification.
I really got the chance to expand my knowledge to a higher degree and covered advanced colouring techniques together with advanced cutting and styling. We used the finest industry product lines from Wella which are results driven. As an enrichment activity I visited the Wella studios in Manchester and in Paris too! It was fantastic to see their salon set up and how they operate.
The part of my course that I really loved was being able to work in a professional commercial salon (many colleges just use the dolls heads, and you get NO interaction from these) this really helped me develop my customer service to the next level and I became very confident.
I applied and secured a position working for the Saturday commercial hair team which meant that I was earning whilst I was learning, which was a BONUS! I have worked there for 2 years whilst completing my Level 3 Hairdressing qualification.
Then an amazing opportunity arose for a position as a Salon supervisor, I applied and went through the interview process and was successful. I am now working alongside students who are just like me 3 years ago, coaching and mentoring. I also head up the commercial salon on Saturdays where we have a regular client base and also provide pamper party packages. I cannot believe how far I have travelled in my 3 years and I think it demonstrates that if you put your mind to it, anything is achievable. My hard work, commitment and dedication has paid off. I am proud to be a learner from Buxton & Leek College and now a member of the team.
What's the next step? Who knows! I am definitely in the right place should I decide to undertake a degree! Watch this space.
Jenny Kennerk, Graduate Trainee Supervisor.