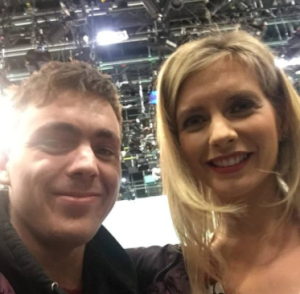 After being a student at Buxton & Leek College for a year now, I have thoroughly enjoyed my experience for many reasons, and I get fun and excitement when coming into college. Going from school to college has been one of the best experiences of my life and I personally class it as one of the best decisions I have ever made! The students and staff make it a happy and joyful environment to come to.
One of the main reasons I love my college is the amazing opportunities that can arise through it, such as things like trips. As a student on the level 3 Creative Media course, we went to the set of Countdown and were able to see how it was filmed for two episodes. I massively enjoyed this trip as it was a good intake on what the media life is like. I especially enjoyed it as I got the meet the lovely Rachel Riley! This was a trip and experience I will never forget.
Another great thing and opportunity that I love from my journey at college is my work experience placement at Future Proof Films Ltd in Derby.  The college did a great job of getting my placement here and was very speedily done.  I feel my skills improved a lot and I learnt a lot more about editing and the software. During my placement I got an opportunity to edit footage of an up and coming young artist called Oliver Keane. The video was for a BBC Music production which was broadcast on Radio. The company was very pleased with my maturity and professionalism and offered me help and support in the future. This experience has been a great opportunity and I have been able to apply my skills learned during the work experience, to my college projects.
Below is a link to the production I had edited for the BBC:
One of my favourite things enjoy the most about this wonderful college is how it's a great place for friends and to be social. As someone that struggled to make friends at school I have come to college and have genuinely the best people around me that I know I can trust and help me through anything if I need them.  They are the best part of my life and knowing that I can come college and spend time with them all and not be judged makes me the happiest person in the world. The ability to feel me around them is great and college have helped me realised that I am becoming an adult more and can be treated as one.
Another reason that this college is amazing is because of the tutors. With my tutors I feel I can talk to them about anything and they will always do their best to help me.  They specialise in the sector I have chosen and have lots of experience, so they are good to teach the course. I feel I can always come to them whether it be problems outside of the course or work-related problem.
To conclude I believe that Buxton & Leek College is an outstanding college and has been such a great experience and I can't wait for my rest of my time here.  It has helped me develop as a person, meet new friends and gain a qualification at the same time.