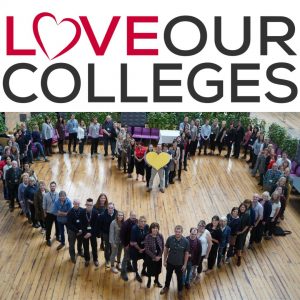 College has been more than a place for me, it's really a period of my life.
I associate it with all the personal growth and gained confidence I've gained over this time. Before I attended this college I had a rough time with life, I had agoraphobia, which is basically the fear of everything (because being outside of my house caused me to have severe anxiety).
From being helped and introduced to this college by a teacher named Allison, I was supported through my first year of college gently, and realistically. I was able to take GCSE English on my first year and eventually passed it, thanks to the support of my teachers. Before and during this year I lost over 70 pounds of bodyweight and made some friends I'm still friends with today.
On my second year I was on ICT level 2, where I became more comfortable with regular college life, I'd go places by myself, I was far more confident than my first year but I still had a way to go. This year my friendship group in class wasn't that big, I was just mainly friends with a lad named Luke from the first year, again who I still speak to this day. It made me feel normal after so many years of feeling so unusual. During this year I was helped by Ken Airey my maths teacher to be moved from functional skills to GCSE maths, essentially skipping an entire year of maths, which I eventually passed thanks to this absolute legend.During my second year, I really honed in on what I wanted to do with my life, I always kind of liked editing videos since I started about 3 years ago now, and – to many of my course mates dismay – we had a media unit on our IT course.
The Media tutor who taught this encouraged me to continue into Media rather than IT. While I value my IT knowledge, got a distinction in my level 2 course, and want to pursue it again in the future, I decided media was my main passion and that has only thickened since.
On my third year of college I tied up some loose ends in my anxiety, I started taking public transport, seeing friends outside of college, and being far more independent. I started kickboxing, something I always wanted to do but was scared to start, had the opportunity to work in a professional photography studio for a week, and drove 8 hours with some friends I met online to spend 3 days away in Cambridge (quite the change from that scared boy who'd never leave the house). I've had some extremely supportive and helpful tutors such as both my current media tutors, Anna and Su, great friends that make writing essays bearable, I'm proud of myself for who I am now, and I'm thankful for college for enabling that.
As college is now coming to an end I intend to move on to university. I've been here 4 years, so not to sound overly dramatic, my time has come. I won't forget this part of my life. I won't forget the glorious highs, the conveniently omitted lows, and all in between.