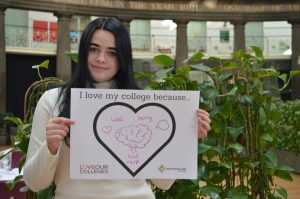 I have been at Buxton and Leek college for 3 years now. This college has given the opportunity to complete two courses. I came to this college to apply for Media level 3, unfortunately I didn't get the correct grades to apply but the offered me to go onto IT level 2 for a year and have that qualification to go onto Creative Media level 3 the following year. This gave me an incentive to push myself and work hard to pass the IT course so that I would be guaranteed a place on the Media course.
The support I have had throughout both courses has been amazing. I struggle with anxiety issues and have problems with stress this year as it is a big transition from L2 to L3. Although I struggle with these issues, this college gives me the best support I could ask for. I decided to go to my teachers about my problems and it was the best thing that I decided to do. They helped work around my stress by sporting me with methods and coping strategies when working on assignments. My teachers have also told me about the Student Wellbeing Department, which is support to help students with mental health. I was referred to the Student Wellbeing and I couldn't feel any more comfortable speaking with them. It is hard to open up but they don't force you and allow you to share your feeling at your own pace.
This college has also developed me as a person. I have become much more sociable with people and has helped me make some amazing friends over the years since being at Buxton and Leek College. I believe that it is very easy to make friends in this college because of the maturity and equality everyone has. If there have been any incidences with bulling, you have easy access to someone for support, such as your progress coach, or lecturers as they will do everything they can to help and resolve the situation.
As I am in Media the college gives me the opportunity to use the equipment such as, cameras, tripods, Tascam's, Go Pros and memory cards all for free. I enjoy this course as all of the opportunity it provides me with, this also includes trips. In my first year of college we all went on a trip to watch 'countdown' and see how it was produced and how the cameras are used. We even had the opportunity to meet the cast!
The college also provide trips for anyone, not for people just on a specific course. For example, this year there is a trip to New York. Although I can't make it this year, I know that the opportunity is there and I know there will be many more trips to come.
Whilst being at this college I have had the experience to work in the Media Industry as we are all sent to do work experience. For my work experience I went to work with a Photography company called 'B-captured' in Leek. I got to use a professional photography studio and use their industry camera equipment. They also taught me how to develop images on photoshop professionally. Work experience has improved my work and skills including my confidence as they said if I ever want to go back and work with them as volunteer work, I have that opportunity.