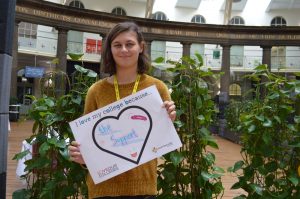 There are many reasons why students love Buxton & Leek college (BLC), from fascinating courses to social events in the Devonshire Dome. Here are some of the reasons why I love BLC:
The years in high school are stressful and fast paced. Homework deadlines, exams every year and strict teachers constantly on the lookout for any reason to give students detention! However, at BLC it is quite the opposite. The atmosphere of the classrooms and the college in general is so relaxed. Instead of stressing over uniform and unreasonable deadlines, students have the freedom to wear their own clothes (being able to express themselves) and therefore feeling comfortable in lessons, putting them in a better mind frame for learning.
The tutors are also really helpful giving advice and support when needed particularly if students are struggling. Thanks to them, lessons are always entertaining and fascinating to be a part of. There are also plenty of other support services available to students including: careers, wellbeing and financial support which are all part of the Union of Students (a support service dedicated to helping students). These services allow students to focus on their courses knowing that they can turn to people if needed.
Another reason why I love college, is the time I get to socialise with friends. Although the bus journey here is long, seeing my friends at college is really fun. The friends I've made have helped me through my first year at Buxton, supporting me with tricky assignments and career choices. Making new friends is a great way to build confidence and improve teamwork, and my friends have definitely helped my self-confidence. At the beginning of my first year we all took part in an activity/teamwork day with lots of fun games and activities to help us get to know each other and work as a team (this is how I met my friends).
Another reason are the amazing trips we go on. Being part of BLC is a great way to gain incredible experiences in many different areas. Each trip gives you valuable information and experiences that you will learn for life. One of my favourite trips was going to Media City in Manchester. Seeing behind the scenes of Countdown and other shows was a brilliant experience. The trips are also really informative which usually links to a project or assignment that we are currently studying, helping us to complete the tasks we have been given. However, as well as being educational, the trips are always entertaining and a fun and sociable experience.
Overall, I love studying at Buxton & Leek College. Even though, most of the time we need to be serious and focused on the work, it prepares you for life after college, whether that be going to university or getting a job. But most of all, you will make lasting memories that you will never forget.