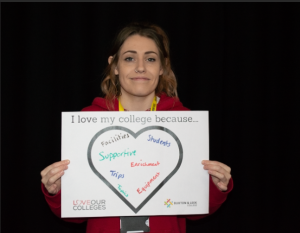 As a Media student, we tend to have a lot of work with a lot of deadlines and with media comes technology such as; cameras, computers, video cameras and other types of equipment we need. At Buxton & Leek College, the needs of a media student are met with top of the range iMac's, access to different equipment, and a factuality that helps and supports their students. We have had the opportunity of trips, such as visiting the Media City in Manchester, National Science and Media Museum in Bradford, Peak FM Radio Station and exhibitions to provide insight on what or where we can go from here.
To help the students try different things, the college sets an enrichment class for every student, each student does one class a week on an enrichment topic of their choosing, giving the student other opportunities to do something they may not have tried but always wanted to do, offering experience in a new skill. The enrichment courses provide all kinds of activities such as yoga, boxing, bush craft, first aid, football and various other subjects. There really is something for everyone.
Through my time at Buxton & Leek College, I have had the chance to visit some great places, visit a radio studio and get to see how things work behind the voice on the air, work experience in a real photography studio, shoot my own music video and make my own short film. As a mature student attending the college, I feared I would struggle to fit in, but I have met some great people and formed some friendships that will last forever. Through my time here I found the staff to be very supportive and keen to help if I seemed to struggle. The college has a good support network for those who may fall behind or have problems in or outside of college. The library has a vast selection of study materials that students have access of as well as computers or laptops to borrow in case you enjoy working elsewhere at college.
The college also has an open door to the public, allowing the public to come in and use the café or make appointments with the hair and beauty team, and a restaurant in the evening with various great food options created and served by the students. This allows the students to gain experience with real customers and engage in situations that will prepare them for their futures in the industries their learning about.
Overall, I love my college because it has provided me with experiences that I would not have been able to have without attending Buxton & Leek College. As an aspiring photographer, having the opportunity to see how a photography studio works during my work experience and having the chance to use professional equipment was one of the highlights of my time here.