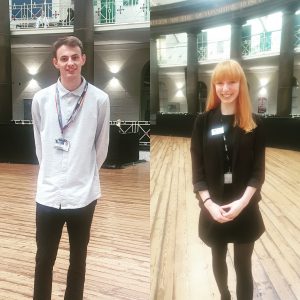 Congratulations to staff apprentices, Joel Radcliffe and Emma Bradley who are the first to go through the new apprenticeship End Point Assessment, both achieving Distinctions!
Emma Bradley, Salon Supervisor, runs front of house at the salons at both the Buxton and Leek campuses, ensuring that customers receive a high level of service from start to finish. She has just completed an apprenticeship in Customer Service.
She said: "Completing my apprenticeship has given me a lot more confidence and has been really helpful to put into practice following my on-the-job training. I've finished my Customer Service apprenticeship and am looking to undertake some further qualifications alongside my role – I'm even planning to train as an apprenticeship assessor myself! My tutor Fiona was fantastic and really helpful in supporting me to achieve my apprenticeship."
Joel Radcliffe has just completed his Business Administration apprenticeship after working in different departments in both FE and HE, including Finance, Registry, Student Centre, Marketing and the Apprenticeships team.
He said: "I've really enjoyed my apprenticeship and have found the teams I worked in – and my assessor Fiona – very supportive. From my apprenticeship, I have more on-the-job work experience and a qualification to help me progress. I'm now studying for a HND in Business Management at Buxton & Leek College whilst I continue working."
Bev Meredith, Apprenticeships Adviser commended Joel and Emma for all their hard work and said "This is what apprenticeships are all about, seeing people achieve to the highest level and what a great accolade in terms of their Distinctions.   I would like to extend our thanks to their Tutor/Assessor, Fiona Kearns from Buxton & Leek College and also their line managers, Judith Washbrook and Amanda Garrington who have supported them throughout their apprenticeships".
Interested in an Apprenticeship? See our latest Apprenticeship vacancies here.