A regular fixture of Staffordshire Moorlands Arts calendar, the art and design entrepreneurs from Leek School of Art will be displaying their work at Astound 2018, a contemporary art exhibition at the Nicholson Art Gallery in Leek. Now in its ninth year, this exciting exhibition showcases the talent and creativity of the students studying on the Foundation Degree in Creative Art & Design Practice.
Founded in 1868 with a single tutor, Leek School of Art has gone from strength to strength and now occupies new buildings equipped with state of the art technology, part of Buxton & Leek College's Stockwell Street campus.
Current art and design students learn practical techniques such as painting, printmaking, ceramics, glass and textiles alongside the entrepreneurial skills needed to compete as a professional artist in Britain's expanding creative industries.
Final year, mature student, Marie Keane, who is just completing her work for the exhibition, is delighted with the course:
"Although I'm not local, I was recommended to study for the Foundation Degree at Leek School of Art because it's a part-time course that's both affordable and accessible for mature students."
She added: "The course is well structured, and teaching and technical staff are supportive and very knowledgeable. Combining 'hands on' practice with art history, critique and theory has really made me think. On the practical side, my newly learnt skills have already enabled me to enjoy some commercial success as a printmaker."
Astound 2018 has a wide range of work on show. Margaret Yates, 3rd year student, is exhibiting her 3D installation and textile work inspired by her family heritage, in particular her grandmother, paying tribute to and celebrating the lives of workers in the textile industry past and present. Margaret's belief is that, 'despite hardships, life is shot through with joy and colour' and she has explored this through textiles and natural dyeing.
Michelle Hart also a 3rd year student, has used dry point etching techniques, with inspirations drawn from the bees and flowers in the Staffordshire Moorlands to produce prints, ceramics and soft furnishings. Michelle has been motivated by wanting to raise awareness of the threat to our Bees: "Without bees, our economy and the future wellbeing of our children and grandchildren are at risk. 13 bee species have become extinct in the UK since 1900 and a further 35 are on the threatened species list. Please help to save the bees!"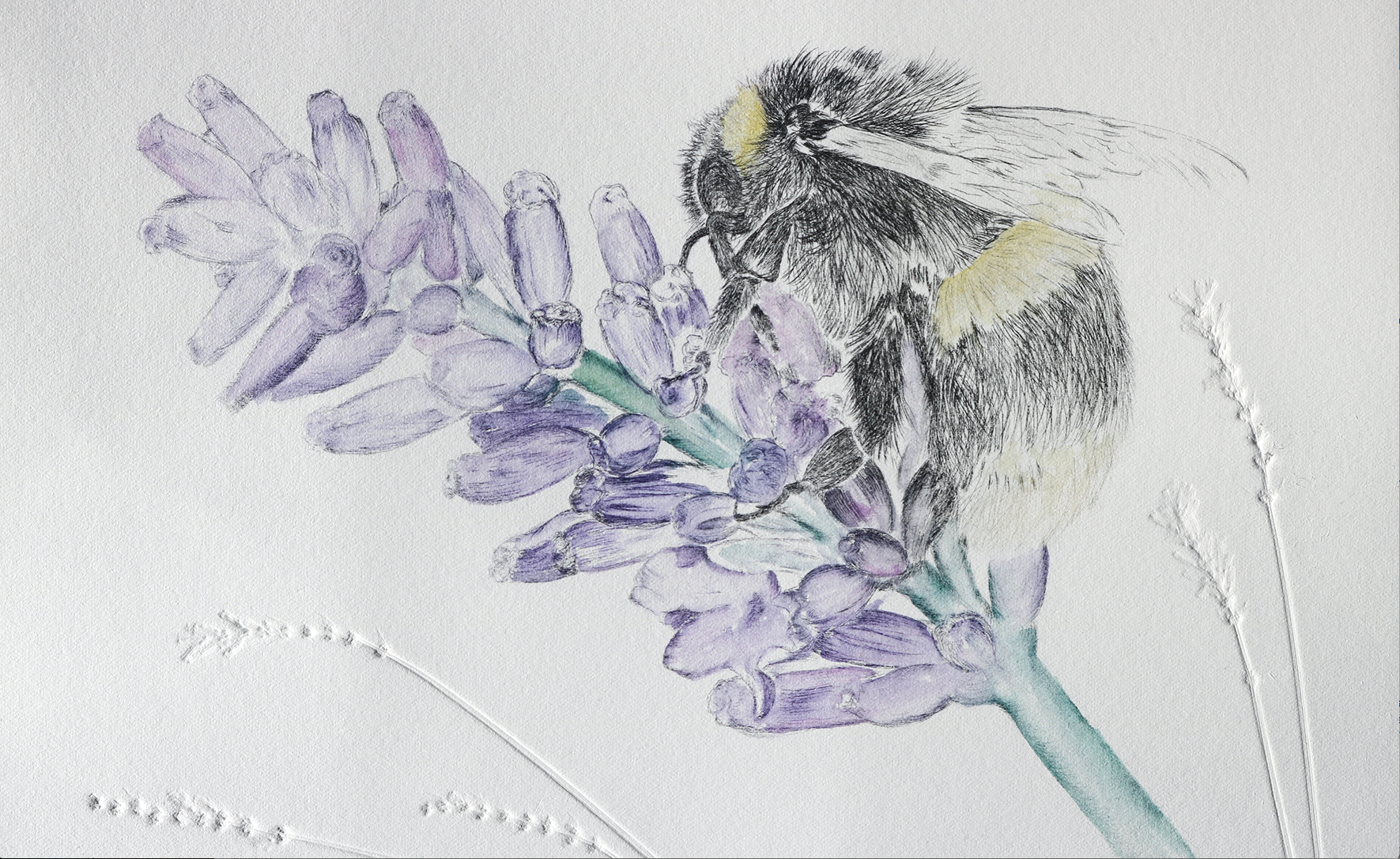 The artwork on sale is produced by 25 students studying on all three years of part-time Foundation Degree and the event has been sponsored by Staffordshire Moorlands District Council with additional support from local businesses.
The Astound exhibition opens on Saturday 19 May and runs until Saturday  9 June  2018.  Doors open from 10am, with last entry at 3.30pm.  The Nicholson Gallery is closed on Sundays and Bank holidays.