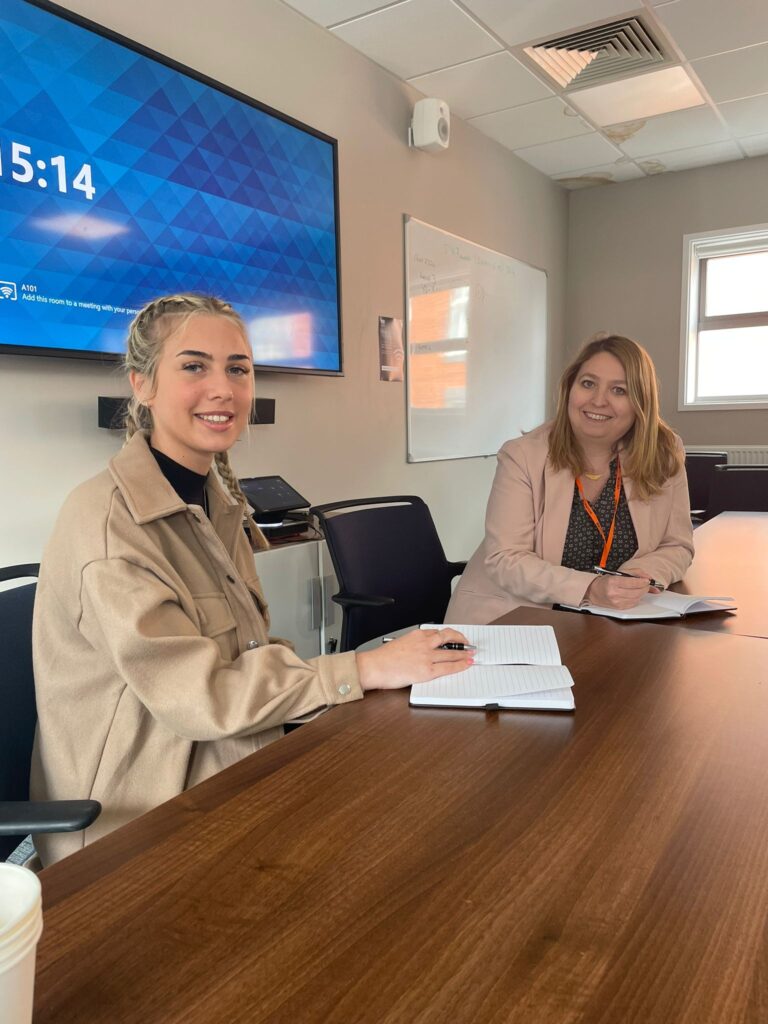 Last week Buxton & Leek College was proud to host Staffordshire Chamber of Commerce and the Conservative MP for Staffordshire Moorlands, Karen Bradley, at their Leek campus as they discussed the issues that matter in our local community, with BLC Apprenticeship student Franchescia Davies.  
Amidst discussing the reinstatement of the Leek to Stoke line, levelling up funding for the town, and the challenges facing businesses and employers, the College's student representative, Franchescia ,was able to ask the local MP if there were any plans to re-introduce shops to the town for a younger demographic. In response, Bradley referenced the difficulties they have faced in past years in enticing high street brands into the largely independent town. However, she does hope that the arrival of McDonalds will create more spaces for young people, eventually bringing the high street brands with it.   
A number of the topics discussed at the meeting have direct impacts on the lives of students in the Staffordshire Moorlands, and incorporating Franchescia in the event will allow these discussions to filter down into student communities.  
The reinstatement of the Leek to Stoke line, decision dependent, could be fully operational and accepting passengers by 2030. This would create new study opportunities for young people who are currently unable to travel to attend their ideal college, as the proposed service would deliver passengers into the city within twenty minutes. Tickets are also expected to be affordable for students.  
BLC students will directly benefit through the Levelling Up Funding which has been granted to the town, as part of the £17.1 million available will go towards improving the Nicholson Building which is a part of the College's Leek campus. It's also been suggested that a business community centre be featured in the building to offer local workers and students a space to work collaboratively, with access to meeting rooms and individual workspaces. Not only is a community space like this needed as more people struggle with the isolation of working from home post-pandemic, but it would also help students to build relationships within the community and learn from local businesses.  
Apprenticeships are a massively important part of more and more students' professional journeys, but with the cost-of-living-crisis affecting businesses across the country, it's becoming increasingly difficult to find employers who feel confident in taking on new apprentices. As these barriers and expenses were being discussed, Bradley ensured that the government are looking for new ways to support businesses through their difficulties. Fortunately for BLC, their connections with the region's employers mean they're still managing to provide young people with the opportunities to study in work-based environments.  
For more information on Apprenticeships at Buxton & Leek College click here.  
Or register for their fun-filled Open Day on Saturday 13th May to experience life at BLC for yourself here.