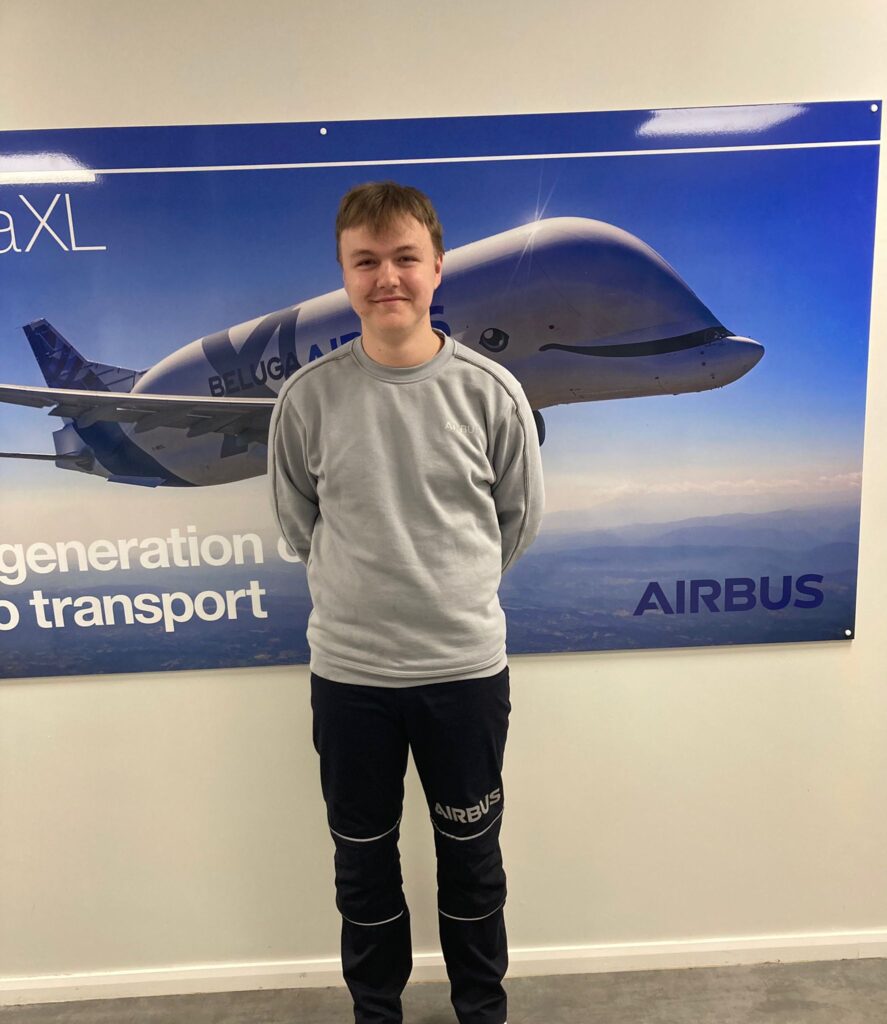 After completing his Level 2 and 3 engineering courses with Buxton & Leek College, former BLC student Ewan Quigley was able to start an apprenticeship with Airbus, the largest aeronautics and space company in Europe. 
Commenting on how his time at the College has helped him to reach this point, Ewan said, "I really enjoyed the course at BLC, and to be honest I miss my time in college. The tutors I had, Matt and Bryan, were really good teachers and were always happy to help me out when I needed it. The course was interesting and taught me a lot about engineering and the different skills that will help me as I start my career. I would really recommend the course to anyone else that was considering it. 
"My progress coach Jack Dendy told me about Unifrog, and that's how I came across the Airbus opportunity. The level 2 and level 3 engineering courses I did at BLC gave me all the relevant qualifications I needed to meet the entry requirements for Airbus – as well as more. I had a really good 2 years at BLC, and I'd like to say thank you to Matt Pilmoor and Bryan Casey for helping me through the course, as without them I might not be where I am today. 
"My apprenticeship with Airbus is for three years, and at the end I'll have a Level 3 Extended Diploma in Aeronautical Engineering. I'm now working at the Broughton site for Airbus where I work on the wings for all classes of Airbus aircraft. I either install the hydraulic systems and fuel systems which are housed within the wing, or I help build the out shell of the wing. My qualifications from BLC paired with the on-the-job experience I'm gaining here at Airbus should make me very employable in more than one sector of engineering when I come to find full-time work. The opportunity here at Airbus even comes with chances to work abroad in Spain, France or Germany, either for two weeks or for a permanent placement, which is an exciting prospect." 
It's clear to see that studying with Buxton & Leek College has provided Ewan with the confidence, skills, and knowledge to move forward as he begins his new and exciting career.  
Alongside the Level 2 programme that Ewan studied, BLC is now offering a T Level Technical Qualification in Engineering, Manufacturing, Processing and Control. This offers the equivalent qualification to 3 A Levels and combines classroom and practical on-the-job experience.  
For more information on the Engineering programmes available at BLC click here.