Over 160 Buxton & Leek College students passed their GCSE maths or/and English this year after failing them at school. This marks a significant increase from the percentage pass rate achieved last year at the college and bucks the national trend.
Alison Ivins, Curriculum Leader for Maths & English from Buxton & Leek College said:
"It is a fantastic achievement for all of our students who have received passes today; there's no better feeling than watching them open their envelope to find out their hard work and commitment throughout the year has really paid off. Maths and English are important qualifications so we work with our students to ensure they receive the support needed to help them achieve what they haven't previously been able to." 
Students arrived throughout the morning with a mixture of excitement and anxiety not knowing whether their hard work would have paid off. A change in the grading system from A – G to 1 – 9, has created some confusion for students this year, with many teachers and those working in Education suggesting it would be harder to achieve a pass.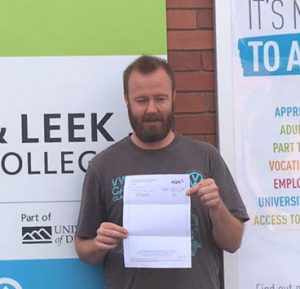 Peter Hiscock collecting his English re-sit results at the Leek Campus, was one of those fearing the worse after getting a grade D at school. With surprise-shock he opened his results to find a Grade 7(A), which he said would enable him to study a degree in Science and eventually teaching.
"I credit my tutors Adelle and Alison for not just supporting me in English but also my exam skills and time management which is so important." He said.
Sophie Hargreaves, a 23 year-old working mum from Buxton came to collect her Maths GCSE, hoping for a pass to enable her to study Midwifery at University. At opening her results and seeing she had made the grade, her tutor Ken Airey praised her for her determination: "I'm thrilled for you; you managed this in one year, whilst looking after a young family and working."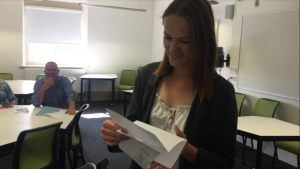 Leek campus students also both found out that they passed their English GCSE today, which means that they can both progress onto study IT degrees at University of Derby in Buxton.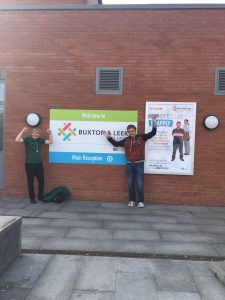 There were many more emotional displays with students hugging and crying with joy and for those met with disappointing grades, advisers were on hand to discuss their next step. For school leavers it is now compulsory that they achieve a grade 4 or above in maths and English. If they don't achieve this at school, it is then a requirement that they study the qualifications alongside their college course. Employers are mostly also asking for at least Grade 4 and above in maths and English, encouraging more adult learners to re-sit their GCSEs than ever before.
Buxton & Leek College is now enrolling students at the college on the many further education courses that are still available to start in September. As a local institution the college is open throughout August to offer free advice and guidance to anyone, either in person or on the telephone by calling 0800 074 0099. You can also browse courses at BLC by visiting: www.blc.ac.uk