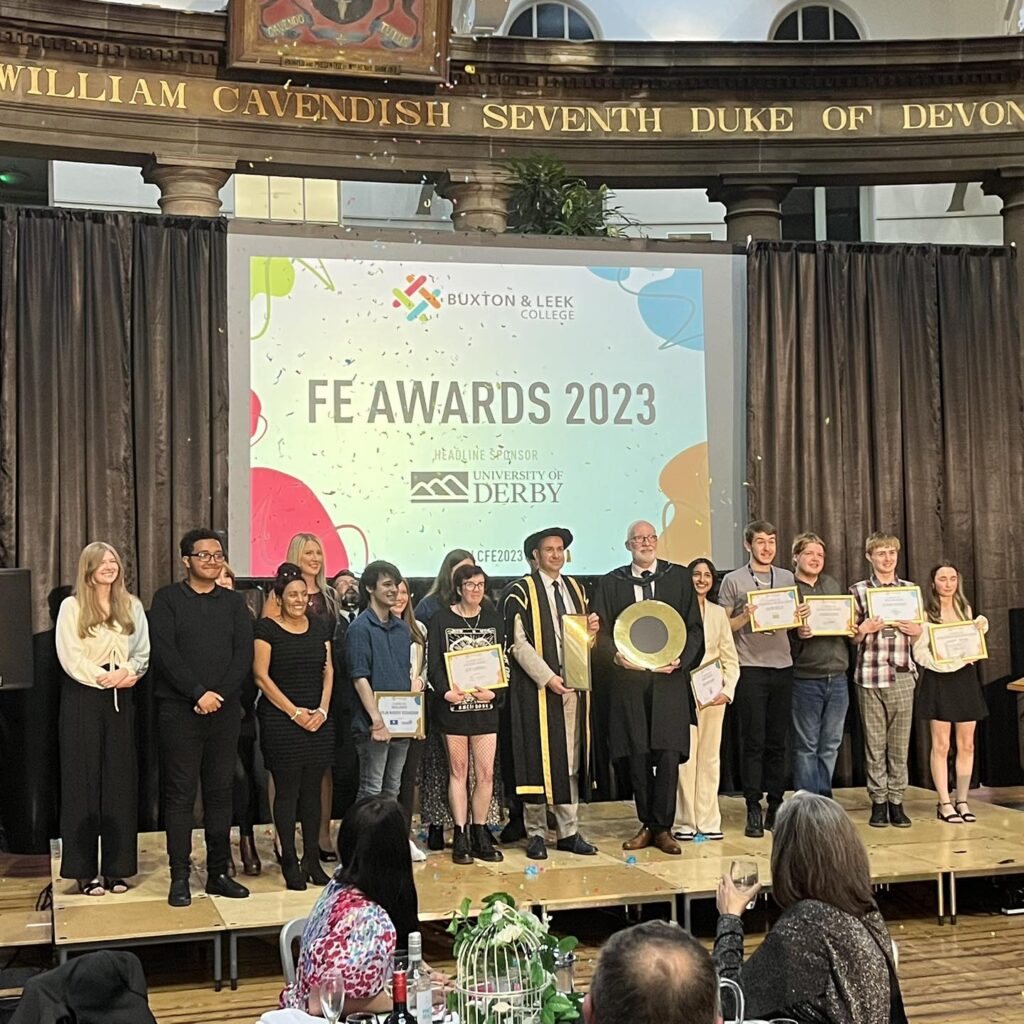 On Thursday 6th July selected students and staff were joined by official sponsors and honoured guests to celebrate the outstanding achievements of the academic year, at Buxton & Leek College's annual FE Awards. 
At the event, Principal Len Tildsley said, "This is definitely one of my favourite events in the college year. A time for reflection and celebration – at least for the moment, our students' hard work is over! This is the time for us to give awards to our stand-out students in recognition of their achievements. An evening for them to celebrate with their families and the staff who have supported them over their time at the College. For many this is an important milestone in their career – moving onto employment, an apprenticeship, a place at university, a new course at the College or progressing to the next year of their current course. An evening like this gives us a chance to reflect on the highs and lows, the successes and on the tough parts of a year of study and learning and then to anticipate those new experiences yet to come. We are immensely proud of the achievements of our students and especially proud of the students being recognised this evening." 
The atmosphere of the evening was warm, inviting, and supportive as students and their families were able to talk to staff and sponsors over a beautifully prepared two-course meal before the awards ceremony began.  
This year Buxton & Leek College really showcased the career focused benefits of vocational study through their community and employer links. Each of the 29 student awards was sponsored by a relevant local business or organisation, which highlighted to attendees the extensive and varied reach that the College has.  
Sponsors included Wella, Capital Hairy & Beauty, Ellisons, Churnet Valley Railway, Howdens Trade Merchants, Bauer Media Group, Signal Radio, Uplands Systems, the OUTSIDE Project, M&M Motor Group, Ensana Buxton Crescent Spa, Derby County Community Trust, Buxton Football Club, Leek Town Football Club, Explore Buxton, Vision Derbyshire, Fox Networking Group, Staffordshire Chamber of Commerce, HSBC, Little Stars Nursery, the Multiply Project, Daniel & Hulme Estate Agents, Be Calmed, Leek Building Society, Derby Union of Students, and the evenings headline sponsor; the University of Derby.  
The inclusive and cohesive environment saw staff and sponsors supporting students through the anxieties of the evening, and even accepting awards on their behalf if they felt too nervous to go on stage. The support from attendees was overwhelming, and cheers for the students and their achievements filled the Dome.  
BLC's students have excelled personally, professionally, and academically throughout the year. Their achievements range from exceeding academic expectations, securing incredible university offers and permanent positions through placements, to overcoming personal challenges and proving to themselves that they're more than capable of conquering anything that comes their way.  
Buxton & Leek College's FE Awards evening celebrated every way that a student can succeed, and every way that being a part of a vocational college can help them get there.  
Click here to see a full list of the night's awards, winners, and sponsors.  
Or click here to find out more about studying with BLC.