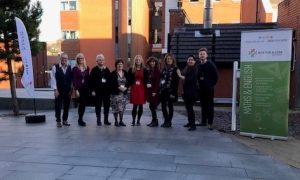 Buxton & Leek College have been shortlisted at the 2020 Tes FE Awards for their outstanding GCSE resits provision.
The most outstanding individuals and institutions that the FE sector has to offer have been recognised in the awards shortlisting. The Outstanding GCSE provision is a new award for 2020.
Alison Ivins, Curriculum Leader for English and maths at Buxton & Leek College said: "We are so proud of our team here at Buxton and Leek College, and all of our students that have achieved with us in their GCSE retake examinations over the years.
"We have worked tirelessly to build success in our English and maths department, and to secure a better future for our students. The nature of GCSE resit provision is widely accepted as one of the toughest areas of education, and at Buxton and Leek College, we have had great success in turning this initial GCSE failure around for students, and helping them to achieve the potential that they didn't manage at school.
"Perseverance, pure determination and a passion for doing everything we can for our students has got us here today. We 'share the love' of English and maths as far as we can, and we are humbled to have been shortlisted for such a prestigious TES Award for the work that we do, and recognised as having 'Outstanding GCSE English and maths resit provision.'
Tes FE editor Stephen Exley said: "Excellent practice exists right across the further education sector, and those shortlisted for the Tes FE Awards are the cream of the crop. Our judges were extremely impressed with the calibre of entries. To be shortlisted is an extraordinary achievement."
The winners will be revealed at a gala awards evening at the Grosvenor House Hotel, Park Lane, London on Friday 20 March 2020. To see the full list of who is in the running, visit tesfeawards.co.uk
For the third consecutive year, Buxton & Leek College exceeded the national position in GCSE English and maths examinations. Performing at an incredible 5.45% above the national average in GCSE English, and at a truly spectacular 12.9% above average achievement in mathematics. This is an incredible achievement, as official figures released show that nationally the percentage of GCSE resit students who achieve a grade 4 pass in English and maths fell again this year.
Find out more about maths and English at Buxton & Leek College here.