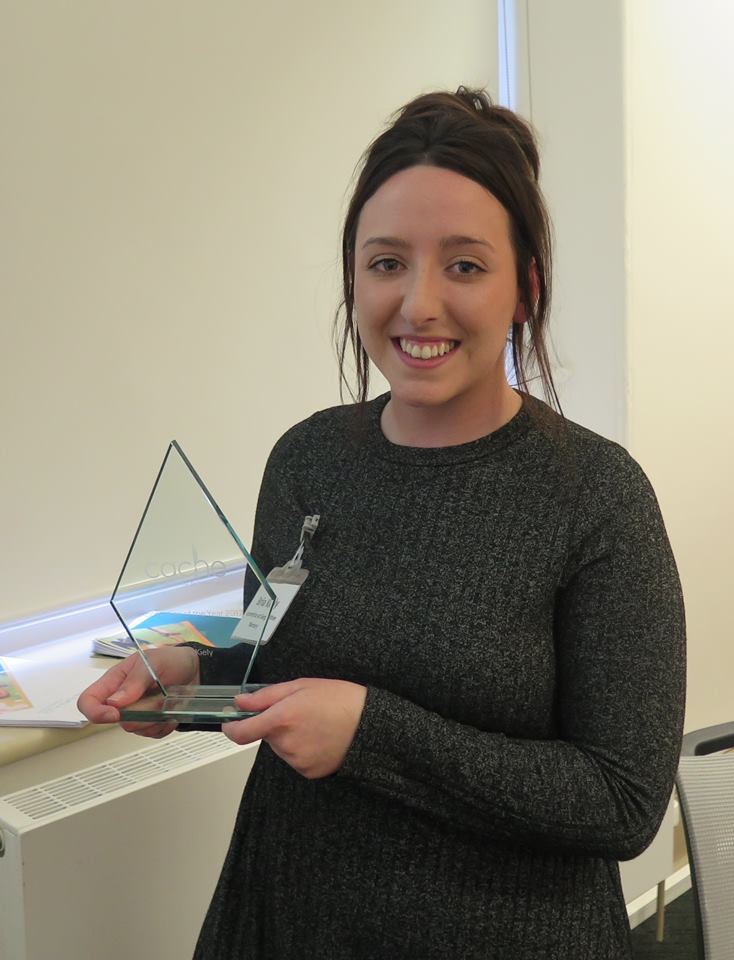 Student Bria Kiely overcame personal loss to win national recognition for her dedication to childcare.
Bria was awarded the title of Apprentice of the Year by the UK Council for Care, Health and Education (CACHE) for her commitment and passion.
She was nominated for her "hard work, dedication and fantastic attitude" while completing her CACHE Children's and Young People's Apprenticeship at Buxton's Serpentine Nursery, one of the College's outstanding training partners.
Her mum Julie died aged 51 in November, but Bria, from Fairfield, maintained her high standard of work while also helping to look after her own family.
"Bria has demonstrated a clear intuition for the needs of others and readily uses her initiative to support her colleagues who say that she is always keen to offer her help and takes on anything that is asked of her with determination and a smile," said Jill Hutchinson, Assessor in Childcare and Education at the College.
Bria said: "The inspiration for me was having a big family with lots of children."
Her mum worked in care as a support worker, and would have been very proud of her daughter: "She would have been very pleased," said Bria at the award ceremony at the College attended by her father Denis and other members of the family.
An apprenticeship is a great way to learn, said Bria, who wants to go on to degree level: "You can't put the theory into practice unless you do a placement, and I can use my experiences in my future course work."
Carol Morson, of the Serpentine Nursery, said: "After the loss of her Mum, not only did she manage to catch up on her studies, she returned to work with her usual high standards and reliability that was exemplary considering her personal circumstances."
Mark Adrian of CACHE said: "Bria has shown a maturity beyond her years throughout her apprenticeship and we believe that she demonstrates the potential to go on to be an outstanding early years educator."
And she even impressed an Ofsted inspector, who noted her "high levels of skill and knowledge" in a report on the Serpentine.
To find out more about the benefits of Apprenticeships with Buxton & Leek College for both budding apprentices and employers, e-mail enquries@blc.ac.uk  or click here