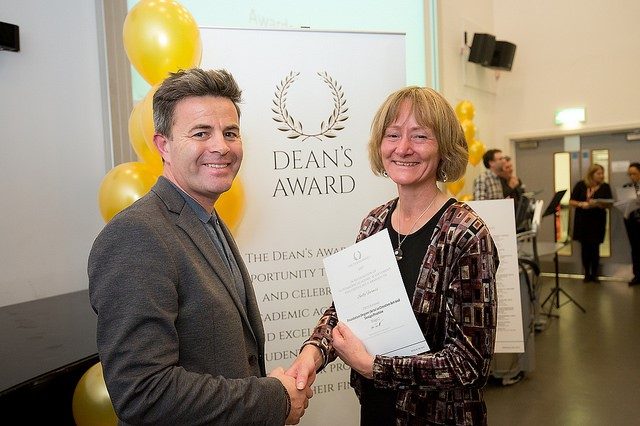 At school in the 1980s Sally had shown artistic promise but didn't get the opportunity to fulfil this at the time and life took her career in other directions. Many years later the opportunity arose to study part time at Leek School of Art for their Foundation Degree in Creative Art & Design Practice.
Graduating in 2017 she passed the course with Distinction. Her success was further marked with the Dean's Award from the University of Derby of whom Buxton & Leek College are a part. It is awarded to the top 10% of students for Academic Achievement.
Sally said: "I am very proud to receive this award. I thoroughly enjoyed my studies at Leek and had excellent support and tuition over the three years. It has been challenging and very hard work especially with having a day job as well but well worth it. I would encourage anyone thinking of going back to college as a mature student to give it a go."
The Foundation Degree in Creative Art & Design Practice is a three-year, part-time course which is perfect for students wishing to establish themselves as contemporary artists, designers and makers.
Throughout the course students can experience a broad range of art, craft and design practice, such as: painting, printmaking, fine art, ceramics, crafts, textiles, surface pattern and photography.
Sally is now further developing her artistic talent and the entrepreneurial skills which were an important part of the course. Joining a collective of artists called Take Ten who are drawn from the Buxton and Leek areas, she is looking forward to exhibiting and selling work this summer. She is also planning to join the 'Top Up' course at Leek School of Art in the future. This is an exciting recent addition giving those with the Foundation Degree or equivalent qualifications the chance to 'top up' part-time over one-year and qualify with a BA (Hons).
Currently the public is invited to see the work of the BA Hons Creative Art & Design Practice students, for themselves at this year's Degree Show at the Foxlowe Arts Centre, which runs until 10 February.
Anne-Lise Frazer, Curriculum Leader of Visual & Perf Arts at Buxton and Leek College said:
"The diverse range of students work currently on display in the Degree Show exhibition at the Foxlowe demonstrates the talents of our students. We feel very proud that Leek School of Art which is part of Buxton & Leek College offers the opportunity to study from Access to HE courses to full BA honours."
For more information about University Level Art & Design courses or to apply, click here or call 0800 074 0099.
Caption: Photo shows Sally receiving her award from David McGravie, Head of the School of Arts at a ceremony at the University of Derby.