GCSE day is fast approaching, and for many students and parents, it can be a worrying and stressful time. Here we find out about the big results day, from Buxton & Leek College's Louise Fletcher, who has worked in education and advisory roles for over ten years.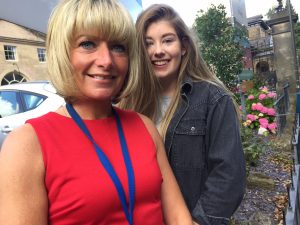 Louise pictured (left) with her daughter Liv, who will be at the Buxton Campus on results day, ready to help advise you…
When is GCSE Results Day in 2017?
GCSE results will be sent to schools or colleges electronically on Wednesday 23 August although the legal date students will be able to receive their grades is on Thursday 24 August.
How can families support students when the GCSE results come in?
Being prepared ahead of GCSE results is a top tip… I not only speak from my experience as a Student Recruitment Manager at Buxton & Leek College, but also as a parent whose daughter has recently sat her GCSEs! Students need to be fully supported whatever grades they are faced with on the day. This could be as simple as having enrolment information telephone numbers and website details to hand to contact their chosen College or Sixth Form.
 What If my child doesn't know what they want to do next? 
I'm lucky in that my daughter Liv has an idea about the career path she wants to take so we have been able to prepare and organise a place for her at College early. But there are so many students out there who don't know what they want to do and are starting to panic as GCSE results day gets closer – but don't worry they still have time to make their choices between now and the beginning of September. There's lots of choice available for school leavers to suit their abilities, ambitions and learning styles, from full-time College courses, Apprenticeships or A Levels.
What happens if I don't pass my GCSES?
My advice is to not despair! Remember that there are so many options available now such as amazing apprenticeship opportunities – here at Buxton & Leek College we have around 150 employers we work alongside with for truly fantastic on the job training and qualifications. That is why students should be armed with as much information as possible by researching other pathways to a chosen career/ subject.
There are also entry Levels available such as Level 1 where students need no formal entry requirements, and Level 2 where students need 2 Grade C GCSEs. Just to put a Level 2 qualification into context, from there students can go straight into employment, and into roles such as a finance assistant – a very well paid industry, with lots of progression. At BLC students can study right up to a foundation degree from Level 1. So whether students get the results they expected, have exceeded or not done as well as they had hoped, there are plenty of options and opportunities.
Should I buy extra tissues for the 24th?
In our family 24th August is most definitely going to be a day filled with a rollercoaster of emotions and I know that this will be felt across the country. I remember during last year's results day a College student arrived with his mum – and both were quite frankly distraught!  He hadn't got the grades for the course he wanted to study. But in no time we were able find another path which could also lead to his chosen career. It meant that he could start College at the same time as his friends and get him back on track and feeling positive about his future. 
Where can I get urgent careers advice on GCSE day?
On GCSE results day I encourage all parents and students to come into either the Dome or our campus at Leek to talk to our advisers and explore all options available to them whether they intend to study with us or not. As a local education institution we are here to help and support anyone between the hours of 9am and 7pm, either in person or on the telephone by calling 0800 074 0099. You can also browse courses at BLC by visiting: www.blc.ac.uk or start a conversation with us via the Buxton & Leek College Facebook and twitter channels: @BuxtonLeek. All Colleges and Sixth Forms across the region will now be giving advice right up to the start of term.