Franchescia Davies, a Buxton & Leek College Apprentice has been nominated for the Advanced Apprentice of the Year title for her outstanding progression during her Level 3 Business Admin Apprenticeship.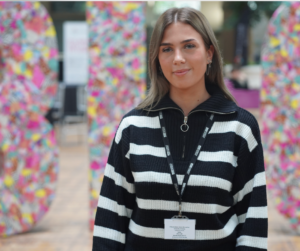 Frankie started her 18-month programme at Buxton & Leek College in January 2022, working in the commercial, student-led, hair and beauty salon (Salon Inspire).
Although Frankie felt "lacking in confidence", she soon made an impression on colleagues displaying professionalism, excellent problem-solving skills and a good ability to deal with the public.
Tom Malpass, BLC Business Development Manager who nominated Frankie for the Award, said:
"Frankie quickly became "hot property" within the organisation with other departments asking if they could "borrow" her for events and she readily undertook those activities to boost her experience and add to her already growing apprenticeship evidence portfolio."
Since the start of the Apprenticeship Frankie took a role in stock control and order, compliance, marketing and project work, as well as her day-to-day reception-based duties.
Frankie says, "I really would recommend an apprenticeship as it gives you not only the knowledge, but also the hands-on experience you can only get from a job – so you are getting two in one. It also saves a lot of your time as you don't need to work an additional part-time job whilst you study. And you get a paycheck from your apprenticeship."
To add to her list of successes, Frankie was awarded the college's Apprentice of the Year Award which was announced as part of NAW (National Apprenticeship Week).
The team at Buxton & Leek College will find out if Frankie wins the Advanced Apprentice of the Year award, this week at the Derbyshire & Nottingham Apprenticeship Awards Ceremony held on Thursday 5 October. For more information about studying an apprenticeship with Buxton & Leek College visit here.