Buxton & Leek College has released the latest edition of the BLC Messenger, the College Newspaper, full of news about students and what's happening around the College. The BLC Messenger will be delivered to thousands of homes in the region, so make sure you look out for yours over the next few weeks!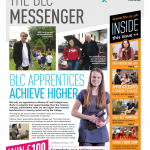 How would you like to win £100 of Love2shop vouchers? That's the amount up for grabs for those readers who fill in an online survey about the College. Find out more about this special prize-draw on the front page!
There are lots of topics covered in the latest edition of the BLC Messenger including our lead story about our huge apprenticeship success. Not only are apprentices at Buxton & Leek College more likely to complete their apprenticeship than the national average, achievement rates are also higher than national benchmarks in a survey carried out by the College.
We also report on lots of individual students and their successes, including Darren Spencer who is now in line for a House of Commons role, likely to involve briefing ministers! Darren thought he'd left it too late to pursue his career dreams but following a one year Access Education course with us he's well on his way to a sparkling career.
Fancy starting a new hobby during 2018? You can find out about our adult Learning for Leisure programme; whilst featured on the back page is a handy guide listing all our part-time and full-time courses.
You will receive your copy of the BLC Messenger through the door or you can read it here now: