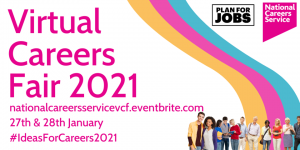 The National Careers Service Virtual Careers Fair takes place next week on 27 to 28 January, bringing together a range of speakers to talk about their current opportunities and give first-hand industry insight. The event is split into two days:
Wednesday 27 January: Exhibition day
This is a chance to hear to hear from organisations about their opportunities, and hear the experiences of people doing the jobs; what to expect, what skills they need, and routes in. As well as other useful careers resources available on the day.
Thursday 28 January: Virtual Jobs Fair
The Fair will give people the chance to see vacancies in their local area.
The event will also have qualified National Careers Service advisers on hand throughout to provide advice and guidance, whether it's talking further about the careers on display or answering any other questions people have about their next steps.
People can register their place and receive notifications as new sessions are added by visiting our Eventbrite page.