Buxton & Leek College is celebrating all things Apprenticeships, this week, with the return of the annual National Apprenticeship Week (NAW 2021) ( Monday 8 to Sunday 14 February).
There's a range of social media content and virtual activities at BLC to get involved with. On the Monday launch day of NAW2021 the College is celebrating with the release of a student-led NAW Cook Book, packed with delicious recipes, from focaccia to Thai cuisine, all created and cooked by our apprentices.  A short video featuring our current apprentices at work and showcasing the different subjects available at the College will also be released.
On Tuesday it's Ask an Employer Day – and University of Derby's Bev Meredith will be answering questions about the benefits of employing an apprentice and providing info on the financial incentives available to apprentice employers.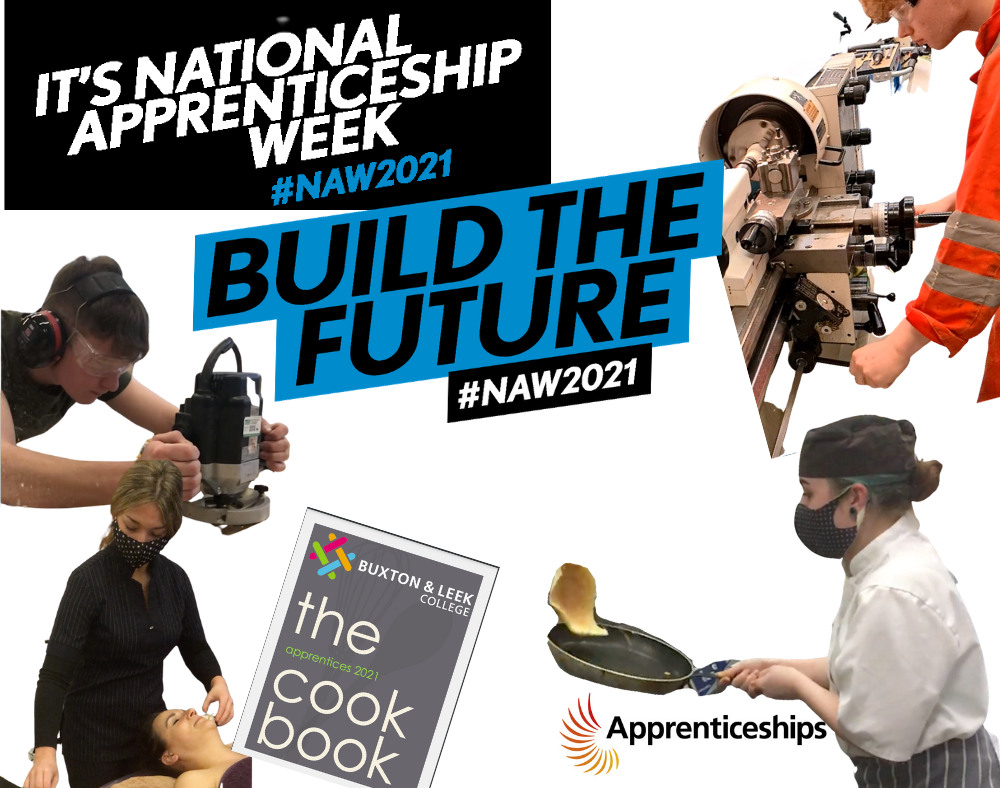 Wednesday's NAW 2021 theme is Ask An Apprentice and we'll be hearing from Alfie Tomkinson, a current Customer Service apprentice working for the Buxton Pump Room at the Crescent Heritage Trust. He'll be answering questions submitted in advance over social media.
Thank You Thursday gives a chance to talk about how rewarding an apprenticeship can be and all the benefits of starting one… A number of students have sent in pictures and quotes about why they are thankful of their apprenticeship…. There's also a free webinar from the University of Derby taking place for local business entitled: "Mentoring your apprentice" on Thursday 11 February: 1 – 2pm – book on now.  An Apprenticeships Mentoring Circle will be hosted by BLC (also on Thursday, 10.30 – 11.30am) with JobCentre Plus.
Friday's Graduation Day theme features an interesting interview with a former apprentice, Joel Radcliffe who studied a Business Administration apprenticeship. Joel won an award for his hard work and was hired by his employer after his apprenticeship finished. He'll be giving us the secrets to his success.
On Feb 14 and the last day of NAW2021 apprentices/employers are showing more love with video testimonies. We'll also be announcing the winners of our NAW Awards 2021… Who will win the coveted Apprentice of the year and Apprentice Employer of the Year Awards? Find out on our social media pages next week: Linkedin Facebook, Instagram, Twitter