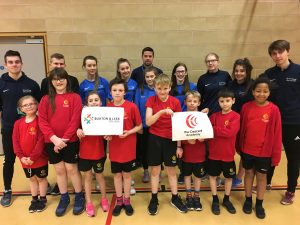 A sports day was held at Brough Park Leisure Centre for special education children from Crescent Academy Primary School, Meir, Stoke-on-Trent. The event marked the end of a six-week coaching programme delivered by Buxton & Leek College Level 3 BTEC Sports Coaching students. The programme was designed to improve self-esteem whilst improving coordination and sports skills.
Miss Brearley, Inclusion Support Assistant from Crescent Academy Primary School said:
"We are so pleased with how the children have progressed over the six weeks. We had young people start here who didn't even want to touch a ball and now they can bounce, kick and shoot a ball into goals – It has been brilliant for their confidence and self-esteem."
Sports Lecturer, Dan Tapley, who organised the event along with his students, said:
"We are delighted that it has been such a successful project and Crescent Academy Primary School are keen for us to continue doing this over the next few years, including more sessions in February.
"The six-week coaching programme has provided our Level 3 BTEC Sports students with an excellent experience of proper coaching practice, working with Primary School children. It's all student led and they have planned the sports day for the children, based on the weekly sessions. This is helpful should they go on to train in physical education teaching or community sport coaching roles in the future."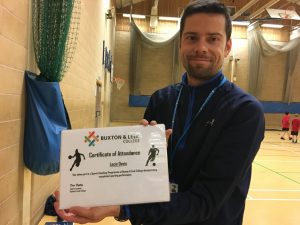 During the sports day all the children were presented with a named certificate for taking part in the six week programme and awards were also handed out to the best performer in each activity including: badminton, penalty scoring, basketball, running, gymnastics and trial-dribbling, among other areas.
Buxton & Leek College Operations Manager Tina Lancaster said:
"This was a great College project, the impact that the weekly sessions have had on these young people with special educational needs has been significant. Certificates the children received at the sports day are being shown off very proudly amongst their peers – they now feel they can engage in sporting activities at school which before now, they shied away from."
For more information about the Level 3 BTEC Sports course visit here.