The idea for the student Land Rover make-over originally came from tutors at Buxton & Leek College, who wanted a project that would engage but challenge learners on the Motor Vehicle course – and it certainly did!
Along the road to bringing the vehicle back to life, Level 3 students based at the college's Harpur Hill site encountered problem after problem as would be expected when rebuilding and restoring any classic vehicle. Among a long list of faults were broken and snapped head bolts which needed replacing in the engine and the students tackled retro power steering, unlike anything they had seen before. The students also set about removing the body from a very rotten chassis, repairing and respraying it.
Duncan Mould, College lecturer and Land Rover renovation project manager said:
"I would say that they have transformed the vehicle into a useable modern classic and breathed new life into something that was destined for scrap. The chassis has been replaced, axles overhauled, engine rebuilt, and the vehicle now boasts new wiring loom, LED lights and a 2.3 Litre Peugeot Diesel Conversion and Range Rover Power Steering."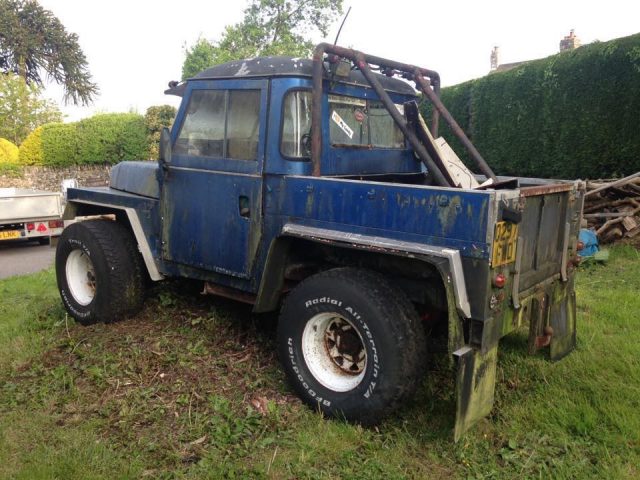 "It has also undergone a full rebuild with an all-over bodyspray in the classic colour of Stornaway Grey and Metallic Black – and no longer has its canvas roof. The students have done a fantastic job of restoring this vehicle." Said Duncan.
Compared to when the vehicle arrived at the College it is unrecognisable and owners of the vehicle, Katy and Andy Wayne who are funding the project are delighted. Andy said:
"We're really pleased with the students work. The Land Rover has real sentimental value to us, as it was my first ever car and we're made up to see it saved from the scrap yard and given a new lease of life after being restored to its former glory."
The project nearly stalled after a supplier went out of business without delivering a key part of the refurbishment – a bulkhead for the vehicle. Luckily, Classic Bulkheads in Birmingham saved the day by providing a replacement part within 3 weeks."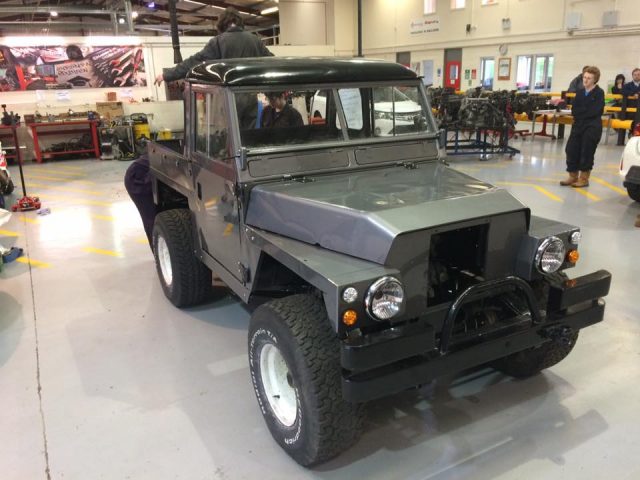 The Land Rover beautifully restored by our students.Daniel Mottram, a student, who worked on the project said:
"It's been a real challenge but has been very rewarding to see the land Rover come back from the abyss. All aspects of refurbishing a classic car requires problem solving and we had to adapt our existing skills. But it's all worth-while when you see what it looks like now. I learnt a great deal and as a result I'm now working in a similar industry at Cruso Auto Repairs, Leek."
In total 9 students have worked on the restoration undertaking various tasks throughout the build.
After completing their course the students will receive a Level 3 IMI qualification before going on to attend the Higher Education Course at University of Derby. Click here more information about the Motor Vehicle courses at Buxton and Leek College.