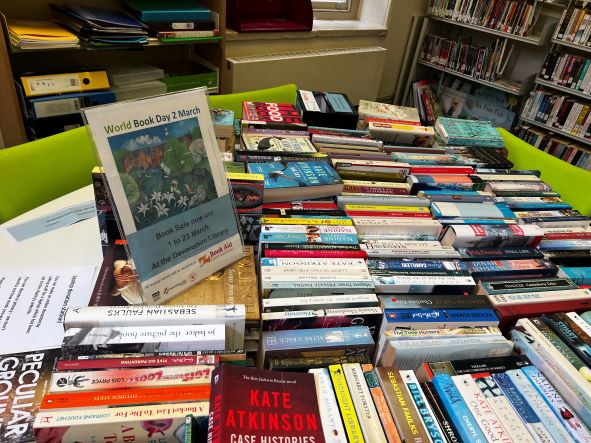 Buxton & Leek College is celebrating and raising money for World Book Day 2023 by holding book sales for students and staff from Wednesday 1st March to Thursday 23rd March at both their Leek and Buxton campuses. This year's book sales coincide with the College's ten-year anniversary, meaning that they have now been holding annual book sales in support of World Book Day and its related charities for a decade.  
A spokesperson from BLC says: 
"Both our Devonshire Library, at the Buxton campus, and our Leek HUB, at the Leek campus, have been busy collecting donated books from students and staff to sell over the next few weeks. This event is all about celebrating reading and helping people around the world access books and reading spaces, and we're really excited to be a part of it again this year."  
Running from Wednesday 1st March to Thursday 23rd March, Buxton & Leek College is hoping that alongside raising money for charity, the book sales will encourage students and staff to invest more of their time in reading. There are books available in a range of genres so people with a variety of different tastes can get involved, including non-fiction, crime, romance, and fantasy, as well as a selection for children and young adults. The College is expecting a fast turnaround of the books currently on display in the libraries as behind the scenes they have a mass of books still waiting to join the donation tables.  
BLC are suggesting a small donation of £1 to be made when choosing books to take home, which can be paid online or in cash when collecting your new reads. However, to better support such a fantastic cause, participants are urged to give as generously as they are able. 
All of the money raised from the book sales will go to Book Aid International, a charity which provides books for disadvantaged people and struggling libraries all over the world with the aim of creating a more equal future for individuals.  
Last year the College was able to raise £380 and they're hoping to raise even more this year over the next couple of weeks.  
For more information about how you can support Book Aid International visit https://bookaid.org/support-us/start-fundraising/  
For a virtual tour of Buxton & Leek College's facilities and to find where their libraries are located you can click here.