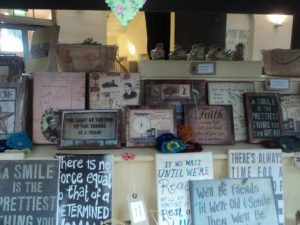 As part of their enterprise and employability units, students studying on Pathway to Progression and Learning for Living & Work have set up a mobile craft stall selling their handmade items.
Spark sells a range of items including hand-made gifts, wooden and canvas wall art and ceramics.
Funds raised will help towards more materials for the students to make more hand-made gifts, with profits being donated to a local charity.
The mobile stall can be found at the Dome in Buxton on Mondays, Wednesdays and Fridays from 1:30pm to 3:15pm.