We offer some fantastic facilities at our Leek Campus, please click the links below to find out more:
Art & Design Studios

The inspiring William Morris Building, home to Leek School of Art, that was opened in 2016 is laid out over 3 floors, with impressive windows overlooking the park creating a light spacious environment for students to work in.
There are 3 large design studios, a traditional life room, textiles, 3D, print and ceramic studios. The 3D/print studio has a variety of equipment including traditional lithograph printers, a glass kiln, silkscreen print processing and a state of the art laser cutter which will cut long lengths of fabric or wood.  The Ceramics Studio has wheels for throwing alongside mould making plaster facilities and kilns.
Each studio has an interactive whiteboard for digitally connected collaborative sessions. There are also banks of laptop computers in the design studios offering students the use of the latest Adobe design software packages to augment their skills in creative painting, drawing and designing. The new furniture makes for a clean and comfortable environment with plan chests and lockers for each student to store work securely, each floor has lifts providing access for all.
The feelings evoked by the old art rooms in the Nicholson Institute are imbued in the new William Morris building with traditional plaster sculptures featured in the rooms and the foyer area which leads into the Gallery Cafe.
Take a look at our Art & Design courses.
Engineering Workshops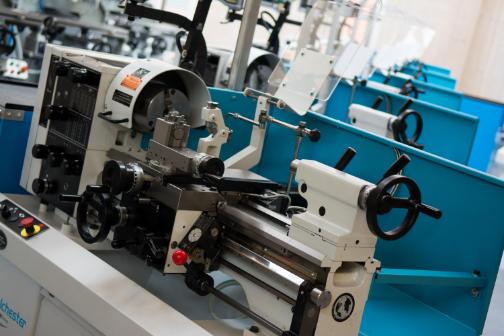 Students who choose to study Engineering at Buxton & Leek College will benefit from a state of the art new manufacturing facility. Merging industry standard manufacturing fundamentals such as milling, turning and bench fitting with cutting edge rapid prototyping and computer aided manufacturing techniques, Buxton & Leek College students will have a head start in the rapidly growing manufacturing sector.
The new engineering workshop is equipped with a full complement of brand new traditional machine tools including centre lathes, turret mills, horizontal mills, surface grinders and a well-equipped purpose built bench fitting training area. In addition to the traditional equipment available to students, Buxton & Leek College has made considerable investment in a Heidenhain Controlled CNC Mill,  Fanuc Controlled CNC Lathe, 3D Printer, Laser Cutter, CNC Engraver and a suite of material testing & metrology equipment allowing students to gain experience using cutting edge manufacturing techniques and develop the skills to progress to our HNC and degree level courses.
Thanks to the College's unique relationship with the University of Derby, our students benefit from special educational software licences which allows them to have copies of state of the art design software such as Solidworks, AutoCAD, SolidCAM and the Heidenhain CNC Programming Simulator to use at home, free of charge.
Buxton & Leek Engineering department has strong links with local employers and is the best choice for young people who wish to gain employment in the exciting world of engineering and manufacture.
Take a look at our Engineering & Manufacturing courses.
Carpentry & Joinery
We offer a range of Carpentry & Joinery qualifications and apprenticeships which will set you on a path to an creative and rewarding career. The full time Level 1 course gives students an excellent foundation to develop the skills and qualities necessary to progress onto higher levels and will also make you desirable to those working in the industry. With excellent facilities and with tutors who will offer all the guidance and support you need, you will be guided into an industry that is constantly in demand for hard workers. To find out about these courses visit the webpage.
Health & Social Care
A career in Health & Social Care / Psychology & Counselling will enable you to make a real difference to people's health and wellbeing and help to improve lives. An industry that is growing rapidly as the demand for jobs is going up each year, now is the right time to gain these qualifications as the skills and commitment that you will gain from doing these courses are widely sought after. With both level 2 and 3 courses available there is something for everyone and with a focus on future progression as the College is a part of the University of Derby this opens up a direct pathway onto several different degree subject areas. To find out about these courses visit the webpage.
Childcare
With the ability to study this course at a variety of levels from levels 2 to 3 all the way up higher education these courses certainly provide the opportunities for progression. With a large focus on real world learning environments accompanying links with local employers these courses may just be the right fit to ensure you work with the school, nursery, education or care provider of your choosing. And if teaching is the ultimate goal then see how far this educational pathway will take you. To find out about these courses visit the webpage.
Business Management & Finance
Whether you want to upskill or make a career change, our dynamic Business, Management & Finance courses will give you the skills and knowledge to achieve your career goals. Some of our courses are accredited by the CMI, a nationally recognised institute that is held in high regard by many employers. This is the perfect subject area for any budding entrepreneurs. To find out about these courses visit the webpage.
The Gallery
The Gallery is our student eatery at the Leek Campus. Here students can pick up freshly made sandwiches and hot snacks like jacket potatoes, chips and toasties from our friendly Gallery staff.
Sports Centre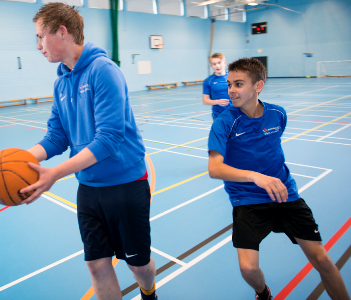 In Leek, our sports students use the facilities at the nearby Brough Park Leisure Centre. Facilities here include a 25m swimming pool, 60 station gym, sports hall, squash courts, spin studio and all weather pitch.
Take a look at our Sports, Outdoor, Coaching & Fitness courses.
The HUB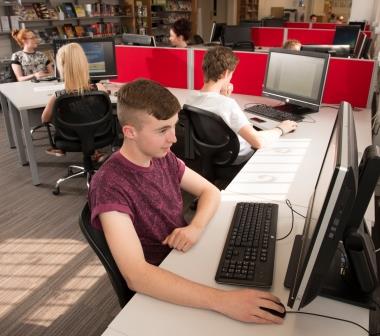 Whether y‌ou need a book, a journal, a computer or help with your study skills, the HUB at our Leek Campus, is the place to go. The staff are all really friendly and will help you with any questions you have. You can access a range of resources, for all levels of study, and plenty of support including books and ebooks, newspapers and journals, study space, online resources, computers and printing facilities, laptops and other media equipment. As well as resources to support your studies you can borrow fiction, films and books on general interest topics.
If you'd like one-to-one help, our Study Coaches can help you with study skills and university applications. Or if you'd like to know about extra-curricular activities, you can talk to the Enrichment Team. We can also help with advice on housing, health, family and financial issues – just ask to speak to a Student Mentor.
Commercial Hair & Beauty Salons & Spa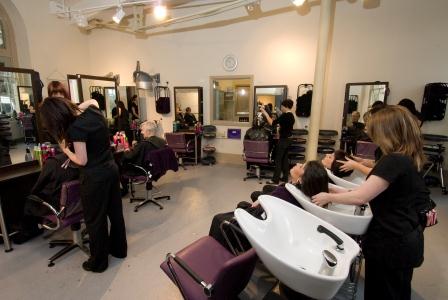 In our salons, at both our campuses, you'll have the chance to practice your skills on real paying customers. Both salons are set out exactly like high street hair and beauty salons with hairdressing chairs and mirrors, wash basins, colouring equipment, nail tables and a reception area.
At our Buxton Campus our Spa Therapy students have full access to the Devonshire Spa, a fully commercial spa facility to practice their skills on paying customers. Areas include tranquil treatment rooms, aromatherapy room, hydrotherapy pool, hammam wet room, sauna, steam room, ice fountain, monsoon shower, reflexology foot baths and relaxation lounge.
Take a look at our Hairdressing & Barbering courses or our Beauty, Spa & Media Make Up courses.