The new application form for all our Bursaries is now available to download.

Scroll down to Bursary Funding for further information
 Financial hardship
If you are facing financial hardship, please see one of our Student Advisors. They can offer advice on the support that may be available to you as a student of Buxton and Leek College. This support may be limited to students studying certain subjects, living in certain areas, or of a specific age group. If you qualify in some way, you may be eligible for:
The 16 – 19 Bursary Fund
Free College Meals
Childcare funding
Learner Support Fund 19+
Advanced Learning Loan Bursary
Progression Bursary
faq- all your general bursary enquiries answered (including how coronavirus may affect our bursary funds)
We have complied a list of questions and answers for any queries you may have regarding the Bursary Fund whilst our campuses are closed, click show more for further information
the 16 – 19 bursary fund
Childcare funding
Learner support fund for students 19+
ADVANCED LEARNING LOAN BURSARY
£1,000 BURSARY FOR YOUR DEGREE AT UNIVERSITY OF DERBY
Buxton & Leek College is part of the www.derby.ac.uk If you decide to study a degree or other higher level qualification with us (either at Buxton or Derby), you will be entitled to claim a £1,000 bursary for that. Many students say that doing a college course before their degree means that they are a step ahead of other A-level students because they have already gained lots of practical experience.
Advanced Learner Loans For those aged 19+ 
Charitable funding
Information for Careleavers
INFORMATION FOR CARELEAVERS
Homelessness

Local authority housing 

Your local council has a duty to help you with your housing situation if you are classed as eligible, homeless, in priority need, have a local connection and they do not find you intentionally homeless

What is Priority need? 

Priority need is targeted at young people aged 16 or 17.

What is a local connection?

You must have been living in the area for the past 6 months, (or 3 out of the past 5 years), have close family in the area or work in the area. (Please note that College is not classed as a local connection).

What does Intentionally homeless mean? 

If you have chosen to leave home or if you have done something deliberately (for eg: not paid your rent, even though you could afford it) which has caused you to be homeless, it could be classed as "intentional".

If you think your situation may be classed as intentional, please seek further advice noting the detail below:
The local council works alongside Social Care and a joint assessment will be completed to assess your need for support etc and will normally contact your parents/ guardian to confirm you are unable to go home.
In emergencies or on a temporary basis, you may be housed in a hostel or B&B accommodation.
Due to housing shortages there may be a wait until longer term accommodation is available.
Some local authorities have supported housing projects for young people.
If you are not eligible for assistance or are not homeless, your local council has a duty to give you general housing information and advice. Contact details for your local council are available by contacting Student Wellbeing.
PRIVATE RENTED ACCOMMODATION
You may choose to look at renting private accommodation, either by yourself or with others in a shared house. This can be done through an estate agent, on websites or through local adverts. You may need an adult who can be your "financial guarantor" to pay up for any damage, if you can't pay the rent. Your landlord may also ask you to pay a bond (deposit) and your first months rent before you move in.

How will I pay my rent? 

Whether you are housed by your Local Council or you rent privately you will be asked to sign a tenancy agreement, which is a legal document, so once you have signed up, you will be required by law to pay your rent.

Your landlord can evict you or take you to court if you do not pay your rent. Some students may be eligible to receive Housing Benefit to help with rent costs.

Seek more advice by contacting Student Wellbeing.

How will I pay my bills and living costs? 

If you live independently, you will need to budget for all your living costs, which include going out, shopping and bills (gas, electricity, water, phone, TV licence) out of your wage, or any other income you may have.

Some students may be eligible for income support to assist with these costs. Seek more advice by contacting Student Wellbeing.
MANAGING YOUR FINANCES
CONTACT US

Opening times: 9.00am – 4.30pm Monday to Friday
Student Wellbeing
University of Derby (Buxton Campus)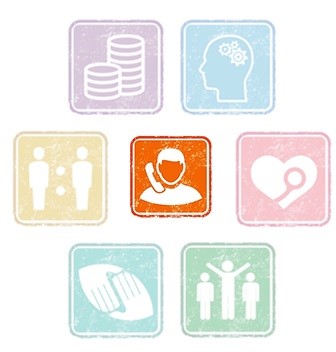 Clarendon House
1 Devonshire Road
Buxton
Derbyshire
SK17 6RY
T: 01298 330 414
E: swsbuxton@derby.ac.uk
Text: 07950 080 717