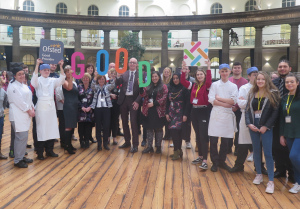 There are still places available at Buxton & Leek College for students aged 16 and above who may not yet have decided on what to do after their GCSEs, or are worried they have made the wrong choice. Study routes including full-time vocational programmes, apprenticeships and traineeships are available across a number of subjects to students of all ages, abilities and ambitions.
Nadia Shalan, Operations Manager for the Learner Journey Team at Buxton & Leek College said: "There are a lot of choices that students need to make after leaving school and we understand that sometimes they might change their mind or be overwhelmed at what is available to them. Our tutors and support teams work tirelessly to support students in making sure that their programme is right for them and their future.
"Students who drop out of education are at risk of becoming NEET (Not in Education, Employment or Training) which can have an impact on the rest of their lives, so we want to get the message to students – who need to be in education up until the age of 18 – that they should Swap, Not Drop".
The 'Swap Don't Drop' campaign, which has received national attention within the education sector, was first introduced in September 2017 and aims to support students to consider alternative programmes if the one that they've chosen isn't meeting their expectations or future career goals.
Last year the college – graded as 'Good' in its February 2019 Ofsted inspection – also introduced Progress Coaches as part of the Learner Journey team. The Progress Coaches keep an eye on attendance, progress and where a student might need extra support, as well as delivering relevant tutorials and acting a link between parent and students. They support 'Swap Don't Drop' and Right Choice Week as the first point of call for students who are thinking of changing their plans.
As a result of these initiatives, the student withdrawal rate at Buxton & Leek College – an important indicator of student satisfaction and quality of learning – has reduced significantly from 5.2% in 2017 to 1.5% currently, with a view that this will stay under 2% in 2019.
Buxton & Leek College offers a range of full-time programmes and apprenticeships for school leavers, as well as adult education and GCSEs.